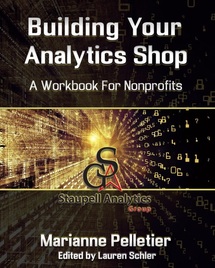 In her new book Building Your Analytics Shop; a workbook for nonprofits, Marianne Pelletier brings her passion for fundraising analytics and skill in communication to anyone interested in building a successful fundraising analytics program.
Marianne writes in a friendly, fluid style and although she has over 20 years of experience and is deeply knowledgeable about her topic, she explains concepts, terminology, and techniques in an accessible manner.
The book covers the key points of setting up a program: an overview of what analytics and good analytics programs are all about; what you need to be successful; assembling the right resources; planning your projects; reporting on findings; and implementing the results.
Marianne provides specific case studies of analytics projects that she and others have done. They're designed to be concrete examples to get you started and her "shopping mall of ideas" provides a springboard of ideas for new projects you can implement.
Pelletier also lays out specifically what you will need in order for your shop to be successful, including good data; a vision of what you want to accomplish; staff and resources to handle the work; and buy-in from leadership. She then spends at least one chapter expanding on each of these success-necessities.
Pelletier shows how analytics can be used to improve every stage of fundraising and within each department, from identification through engagement, annual fund, pipeline management, major gifts, stewardship and planned giving. She even shows how analytics can be used to measure and increase staff performance and success.
Pelletier's friendly and engaging style is just what a topic like this needs, especially if you're new to the topic and trying to figure out if it's right for your shop. She never descends into jargon and she doesn't approach the topic like she's speaking from a lectern – Marianne is an evangelist for the power of analytics but she wants to make it fun and accessible to others.
Another bonus is that the book comes with a number of online worksheets Pelletier created for you to fill in as you go along. These help narrow down your options and provide ideas for future projects. At the book's end is a strong index of resources and further reading hand-curated by Pelletier which is worth the price of admission.
If you're wondering if analytics is right for your fundraising operation, or if you're just curious to see case studies and understand what questions analytics can answer, you should add this to your reading list.