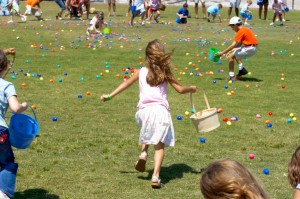 Prospect researchers tend to grab great information sources with the zeal of kids let loose onto the lawn of the White House for the annual Easter Egg Roll.  
And for good reason: well-curated information sources are really interesting and offer valuable time-savings. Especially because (for most of us, anyway) the pile of pending research requests is always a foot high.
Sources can range from compensation in the private equity industry to how many staff the rich need to hire for each mansion or yacht they own. Conferences where the rich and powerful hang out and discuss world business like Davos and Bilderberg. Or places where they hide out (or just hide out their money).
I'm not talking about just a list of websites that you check off when you do research. A great Gold Guide is the kind of thing you may even bind portions of to share with new fundraising staff members. For example, how about a chapter based on this segmentation:
"x% of our alumni are attorneys working in mergers and acquisitions. Here's what their networks and compensation structures look like." Wouldn't that be a great chapter for a newly hired fundraiser to see on their chair on Day 1?
Taken together, a good collection can help a fundraising team work faster and smarter.
I've been privy to several "Gold Guides" and my team and I have helped a fair number of organizations create their own. It's been my experience that a well-crafted guide of research sources gives a fundraising team a substantial advantage.
Do you have a Gold Guide?
Here are a few ideas to help you build your own guide or refine the one you've got:
Keep An Easy-to-Access Daily Research List
For my own purposes, I have a spreadsheet with the following columns:
Month/year found

Resource name

URL – unless it's a print resource, of course!

Description – a few words (or copied snippet of information) to remind me why I loved it

Tags/Keywords – allow me to search and sort
I keep the list open on my desktop for easy access throughout the day. The best of the sources I find go on our free HBG Research Resources List, added to the ones my team finds, too. We put a copy of the best whitepapers and reports on our shared server in topical, regional, or profession-specific folders. Any "Rich Lists" or "40 Under 40"-type lists we find go on our Wealth Lists page.
Collaborate
Empower your entire team to update and curate your list. For some shops that place might be a centrally-located paper file cabinet; for others it may be on Evernote, or a privately shared spreadsheet created on Google Drive.
The most important thing is that your 'Gold Guide' gives you a space to keep and share information so that you're not constantly reinventing the wheel.
Categorize
It's also really important to keep your treasured resources in categories where you can find them easily. Use folders, tags, and hyperlinks, and cross-reference when it makes sense. I'd rather have a copy of the same great resource in two folders rather than try to remember where I last put it.
Some categories you might want to consider keeping track of are:
Top co-op apartment buildings in New York City (and how much it costs to own them)

Planes, yachts, and collectible cars ownership

Horse breeding and thoroughbred ownership

Oil and gas rights

Venture capital, private equity and hedge fund deal structures

Information about family offices
Considerations
What you decide to curate very much depends on the type of constituency you have; an art museum might decide to keep a deep reference Gold Guide on recent art auction prices, for example, but their Guide might be fairly thin on oil and gas rights information.
And finally, if you have found the most amazing resource ever and it's updated annually – create a shared calendar for you and your team so that you never miss the latest version.
What have you got in your shop's Gold Guide?