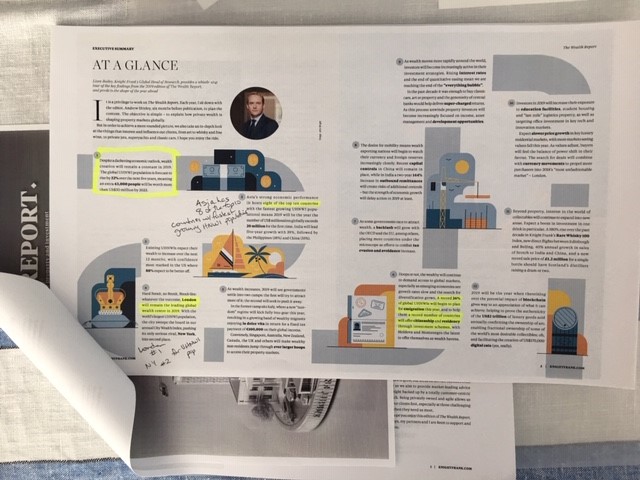 One of the yearly reports that sends a tingle up the collective spines of the prospect research community is The Wealth Report from Knight Frank. The 2019 edition came out this week, and my copy is already highlighted and sticky-noted – how 'bout yours?
If you haven't had a chance to download and read it yet, here are seven highlights I didn't want you to miss…
The numbers on the ultra-wealthy. There are currently in the neighborhood of 200,000 ultra high net worth individuals (UHNWI) in the world right now. (UHNWIs are people with assets of $30 million or more, excluding their primary residence.) That number is forecast to grow by 22% over the next five years, when there will be nearly 250,000.
Now and Later. Although the United States and Canada currently have the largest number of resident UHNWIs (51,912), the fastest growth for the next half-decade is estimated to be in Europe and Asia. Germany, Spain, China, Hong Kong, and India are areas particularly to watch for wealth growth. UHNWI growth is expected to be 18% in North America, 27% in Germany and 35% in China.
The HNW population is growing, too. The number of high net worth individuals in the world (that's people with assets of $1 million plus excluding primary residence) is expected to exceed 20 million this year for the first time ever. Six and a half million will be in North America, and Europe and Asia will each have nearly six million HNW residents. HNWIs will make up about .03% of the world's total population.
Where do they want to live? Knight Frank's research shows that UHNWIs want to live in countries with a stable government and cities that are reliably safe. They buy first and second homes in cities with a density of elite higher education and health-care institutions, and they want to be near five-star hotels and a variety of luxury restaurants.
The wealthy are on the move. 36% of UHNWIs have a second passport, and 26% plan to emigrate permanently. Some countries like Italy, Moldova, and Montenegro are enacting legislation to take advantage of that trend, offering tax and investment incentives for the wealthy who make those countries their primary residence.
How they roll. Nearly half of the yachts owned by UHNWIs are longer than 40 meters long and more Europeans own yachts than any other region. North Americans are the majority of jet owners by a nautical mile; there are 13,685 business jets registered here, which is 9,268 more than the rest of the world combined. Teterboro is the busiest private airport with most flights leaving from there heading to Miami and the Bahamas.
UHNWIs are on social media. There's a fascinating section and group of infographics on pp 24 and 25 of the report in which Knight Frank maps out when – and where – the wealthy go on vacation based on their social media activity. Want to know when your prospect is likely to be in the UK, or Paris, or New York? Knight Frank can show you.
There are tons more takeaways and fascinating facts, and I urge you to take the time to read the whole thing. (It's way shorter than the Mueller Report, I promise). Don't miss the "Risk and reward section" starting on p. 26; the introduction of blockchain to the art and luxury investment markets on p. 76; or the fascinating look at whisky-as-investment in the section called "Casks of Gold" starting on p. 78.
Enjoy (and let me know what you think!)