Is there a link between income inequality and philanthropic giving stagnation?
Chris Carnie, chair of the UK prospect research firm, Factary, thinks there might be. In his recent blog post, Chris writes about middle donors, the lifeblood of every nonprofit: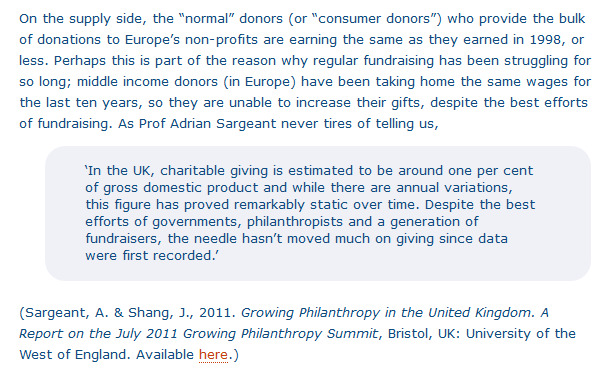 It's an interesting point.
Over here in the United States, the middle class is shrinking to its smallest cohort since 1971. According to the Pew Research Center, that statistic actually carries a small amount of good news in that there has been a greater shift of families moving up economically than down. The down side is that there is less wealth to go around for the 80% left in the middle, lower-middle, and lowest income tiers.
And just like the UK, charitable giving in the United States is also static; here it's been around 2% of gross domestic product since record-counting began in the 1970s. Is that stagnation related solely to economic factors? Or is there more?
In an opinion piece on the Chronicle of Philanthropy (CoP) website this week, Kevin Murphy, immediate past chair of the board of directors of the Council on Foundations suggests that the problem with stagnation of giving in our sector is simply not reaching high enough. He argues that the philanthropic sector needs to band together in support of a common goal:
"Instead of focusing on narrow tax incentives, it's time for charities and foundations to set national goals for increasing the amount that Americans give to nonprofit organizations.

For as long as records have been kept, charitable giving has remained stuck at about 2 percent of the gross domestic product. There may be a lot of reasons that we've never grown that number, but one surely is that we've never set a bigger national goal.

As we open a year of presidential elections — and much deliberation about the state of the country — it's the right time for nonprofits to decide we will work together to increase charitable giving to at least 3 percent of our gross domestic product in the next three years."
But who would fund and organize (and run?) that amorphous campaign? And would it work?
History shows that the answer is no.
Suzanne Perry in the CoP article "The Stubborn 2% Giving Rate" writes:
"[E]ven in the best of times, organized efforts to get people to give more have sputtered.

Independent Sector, a coalition of charities and foundations, led a sustained campaign in the late 1980s and early 1990s to get everyone to increase their donations. Known as Give Five, it placed magazine, radio, and television ads urging Americans to donate 5 percent of their gross incomes to charity—up from the average of about 2 percent that its surveys showed individuals were giving then.

The effort attracted millions of dollars in foundation money and spawned dozens of local efforts around the country. The Advertising Council adopted the campaign, soliciting free services from ad agencies. It had a logo (a circle with a small 5-percent wedge highlighted) and slogans like "Give Five: What You Get Back Is Immeasurable."

But it didn't work.

"There were a few blips where it went up a little bit, but there was never any real measurable, strong increase," says John Thomas, who was vice president for communications at Independent Sector at the time. One problem, he suspects: Giving is a "very personal thing," and some people didn't like being told how much they should give."
So what's the answer?
Jay Love, CEO of Bloomerang and chair of the AFP Ethics Committee argues that there are five pragmatic, fixable factors blocking the growth of charitable giving.
Hesitancy to invest in infrastructure
Blind adherence to legacy fundraising tactics
Lack of proper testing of fundraising methods
Lack of proper training
Poor donor retention
On that last point, Love says:
"[A]s long as the average nonprofit organization has an overall donor retention rate below 50%, the 2% of GDP barrier will not budge.

Just think what an overall rise in the donor retention rate of merely 10-15% would do for overall dollars raised, if all other factors remained constant. We could see the dollars raised percentage of the GDP growing to 3 or 4% over time!"
Naturally, I think prospect development has a large part to play.
There are more than 1.6 million nonprofit organizations in the US and the sector has been growing exponentially (according to the Urban Institute, the number of nonprofits in the United States grew 25 percent between 2001 and 2011).
With all of that growth, there are fewer than 5,000 prospect development professionals in our industry.  (I'm counting APRA, AASP and RiF's membership numbers and guesstimating the number of professionals who aren't current members). Even if you take away half of the 1.6m number to accommodate for associations and grant-giving organizations, that's one prospect development professional for every 160 nonprofits.
No wonder we can't get any traction!
When you consider the huge impact that prospect development has brought to organizations that have invested in it, Jay Love's arguments 1 through 4 clearly apply. Prospect development is only one piece of the professional fundraising toolkit, but it's as important as every other necessary cog in the machine.
In fact, I believe that it's one of the critical pieces that will help the nonprofit industry move forward, because we can help answer those pragmatic needs.
Reading these articles and opinions, it's clear there are multiple reasons why we're losing ground on middle donors. But to paraphrase Chris Carnie, there is an increasing number of wealthy people out there, and a lot more people in the world who need their help.
We need to borrow fundraising tactics, like prospect development, from others that are working, be courageous, and forge new paths for others to follow. Maybe if we do, 2016 will be the year we crack the 2% nut.