This isn't a super long post this week, but I did some figuring and chart-making on something that piqued my interest that I wanted to share with you.
Last week Forbes magazine published a list of the top 25 donors of 2020. In past years the list has been longer – it's normally 50 – and I'm left wondering why, in such a year of incredible generosity as 2020 was, that it was a shortened list.
Still, it's good to see the venerable publication celebrating how much billionaires have given away versus simply glorifying how much they've amassed. I hope that behavior modeling spurs other billionaires to give competitively, if pure philanthropic motivation isn't enough.
None of the names will surprise you if you've been paying attention to mega philanthropy over the years: the usual Buffett, Gates, Soros, Bloomberg, Broad and Moore crowd, with the fantastic new addition of Scott – MacKenzie Scott – to the list.
I was interested to see what this group of 25's priorities were in 2020, so I created a chart that I thought you might like to see, too. For comparison's sake, I tried to go back and look at Forbes' 2019 numbers to see how they compare by priority, but the Forbes Givers list published in 2019 looked at 2018 numbers. Pffft. So we'll have to wait to compare these priorities with the Giving USA report for 2020 across-the-board giving when it comes out in the summer.
Education was the number one priority, but as you might expect, COVID-19 relief and related human service needs were big priorities. Here is the breakdown of giving priorities for this group for 2020: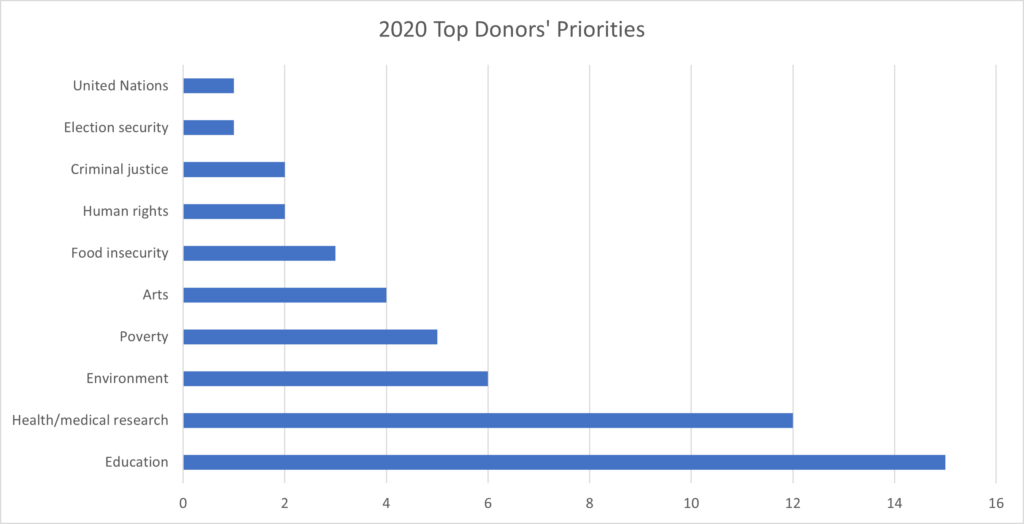 Please be aware that some of this "education" giving included COVID-19 relief such as related assistance to students and university-based virus/vaccine research, so it's not a pure education category.
My guess is that the environment, poverty, food insecurity, and criminal justice numbers are way up as a percentage of top donors' giving, but it's just my sense of how things went last year.
I'd love to hear any thoughts you might have on these priorities or other numbers you've seen.