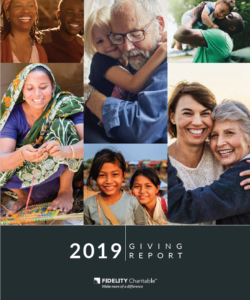 Today I'd like to draw your attention to the Fidelity Charitable Giving Report, 2019 edition. You can download it for free here. The report summarizes Fidelity's donor advised fund activity for the past year, and there are some important opportunities I noticed that I wanted to share with you.
In case you're not familiar with Fidelity Charitable(™), it is the largest sponsor of donor advised funds (DAFs) in the United States. Fidelity is cagey about the total assets under management, but donations made last year from the superfund's 204,292 (and growing) DAF donors totaled $5.2 billion.
While you might expect that a super-large fund of funds would be a great place for privacy-seeking billionaires to cache their philanthropic dollars, the median DAF size at Fidelity is $17,670. Just 8 percent of Fidelity DAF accounts hold over $250,000 in money waiting to be donated, but even so, that small slice of funders gave over 582 donations of $1,000,000+ last year.
That $5.2 billion in donations last year was an increase of nearly 20 percent over 2017. Fidelity says that the majority of donations – 60 percent – were specifically unrestricted. Normally with a DAF gift distribution, a donor can suggest a gift designation but the DAF sponsor – Fidelity in this case – can choose to honor or ignore the restriction.
Of course, they'd be operating at their peril to ignore the donor's wish in all but the most outlying cases, so DAF managers generally pass that restriction along to the nonprofit. The fact that this growing number of Fidelity DAF donors largely gives unrestricted money is good news, considering that most foundations won't cover overhead and major gifts from individuals tend to be restricted.
The report breaks down giving by recipient type and a companion piece slices the data by geography, and I found these two breakdowns fascinating:
Recipient type
DAF donors give differently than average Americans do (as described in Giving USA). Year after year, their pie charts show us that religious organizations receive the largest piece of the pie in terms of dollars. Last year, religion received 29 percent of total giving, which amounted to $124.52 million.
But although Fidelity's DAF donors gave the highest volume of gifts to religion, the segment which received the most dollars was education, which at 29 percent of all giving was nearly double the amount of religious gifts, at 15 percent. Religion actually came in third place, just after 'society benefit,' which was 18 percent of DAF giving at Fidelity.
And that's not unusual. In fact, according to the report:
 Since Fidelity Charitable launched the Giving Report in 2013, education has regularly received the most yearly grant dollars; religion has received the greatest grant volumes."
From a prospect identification / donor segmentation perspective, that's pretty interesting, eh?
Geography
A companion piece to the report provides a closer look into what Fidelity calls the 2019 Geography of Giving, where you can drill down on each of Fidelity's top 14 markets as it compares its "Top Cities for Giving". They are:
Atlanta, Boston, Bridgeport, Chicago, Cleveland, Dallas, Denver, Los Angeles, Miami, Minneapolis, New York, San Francisco, Seattle, and Washington, DC.
There are all sorts of interesting statistics for you to find in each city's one-sheeter. Take a look at Chicago, for example. Human services, religion, and education may be the top 3 charitable sector priorities for all Fidelity DAF donors in that city, but nestled among the top five most popular recipients of donations are two public media nonprofits.
Hmmm, that's interesting! What about New York? The top three priorities are education, human services, and health, and (well, look at that!) at #1 for donations is New York Public Radio and at #4 is WNET. Again, two in the top five.
So of course I had to check out my home town, Boston. Top three priorities for Boston DAF donors? Just like New York, the top three are education, human services, and health. But look here: at number 3 for largest dollar support is the WGBH Educational Foundation (yay Masterpiece!) and at number 4, Boston University (which beside being a university also houses Boston's other major public media station, WBUR).
In San Francisco, the number one spot for donations is KQED. In Atlanta, public media is at #4 (under the guise of the Atlanta Educational Telecommunications Collaborative).
If I were working in public media, I'd be paying a lot of attention to my Fidelity DAF donors right now (or maybe these numbers point to the fact that they already are…)
But even if you're not in public media, there's a whole lot more in these reports of interest to all organization types that can help you think creatively about donor engagement strategy. These are just two areas that I wanted to highlight that grabbed my attention. Take a look and see what information you find that's relevant to your nonprofit – and if you find something that grabs you as fascinating, share it with all of us in the comments!