I have to say, this book club thing has been a lot of fun.
Not only was New Power a really interesting book, the group a delightful bunch of people to hang out with, and our conversations lively, but co-author Henry Timms showing up for our last book club meeting was way up there on my year's highlights reel.
It was so much fun that we're going to do it again and open up the HBG Book Club to the first 25 people who would like to join us for the next book. Here's the deal: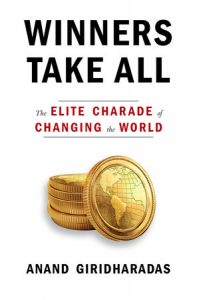 We'll be reading Winners Take All; the elite charade of changing the world by Anand Giridharadas.
Our reading schedule will be:
Nov 7:  Prologue + Ch 1 & 2
Nov 14:  Ch 3
<Thanksgiving Week BREAK>
Nov 28:  Ch 4
Dec 5:  Ch 5
Dec 12:  Ch 6
Dec 19:  Ch 7 & Epilogue
What's involved?
Registered book club members will join a weekly 45-minute Zoom video conference on Wednesdays at noon Eastern. In between meetings, we'll also be able to chat in our Zoom IM chat room.
What does it cost?
Not a penny. Nada. Niente. Zippo. Just your time in reading and sharing.
What's expected?
We do have 2 expectations:
You have to read the book. <grin>
You need to show up. All members of the club should be able to come to the weekly chats at least 75% of the time. We understand that life intrudes at the last minute sometimes, though, and that's okay, but discussing the book every week without you there would be a bummer for all of us.
So if you don't think you'd be able to commit to coming to the meetings right now, let someone else have your place. There will be another book!
But if Winners Take All sounds like it's up your alley and you'd like to discuss it with other enthusiastic friends, sign up! We'd love to see you in the book club!
Here's how:
Just click here to sign up. You'll be asked to share your name and email address, which will be added to the HBG Book Club list. HBG Book Club is the only thing we'll use your name and email address for.
We'll send you further instructions for how to get logged into the Zoom room and we'll provide meeting information each week before the book club gathers.
If the link has been removed, the Book Club may be filled for this round. If you still want in, use the Contact Us form to see if there are any spaces available.
Even if it's full, don't stay on the sidelines! You can still read along on the schedule and join the discussion on Twitter using the hashtag #HBGBookClub.