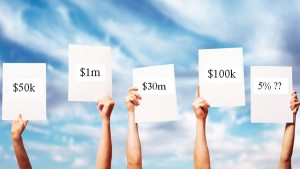 We've been dead wrong in our calculations of gift potential for major donors.
We don't have the right information. And we're using what we do have the wrong way.
 Let me set the stage: normally when we're calculating a major donor's capacity to give we look at their total visible assets and calculate that they will give 5% of that over five years to charity. Where does that ratio come from? The IRS, the Chronicle of Philanthropy and Giving USA are the three big resources for philanthropic giving information in the US.
The 5% figure we've been using isn't real
Last year the Chronicle of Philanthropy published gorgeously interactive statistical maps using IRS data from 2008 (the most recent year available) showing the percentage of discretionary income that people who itemized gave to charity.
Those with income of $100,000+ gave 4.2% of it away to charity (on average)

Those with income of $50,000 – $99,999 gave 6% of it to charity (on average)
 So it's easy to see where the average of 5% we use comes from.
 The trouble is:
As they say themselves, "The donations in the Chronicle study account for about $135 billion of the $214 billion that Giving USA estimated that individuals contributed in 2008." So we're missing about two-thirds of the gifts in there somewhere. Which income segment were they from? Does their absence impact the ratios at all?
Invested assets far outweigh income for high net worth individuals (those with assets of $1 million+), or ultra HNWI (those with assets of $30 million+), and are generally what these donors use to make major gifts. Basing major gift calculations on percentages of discretionary income for this group just doesn't make sense. We need a metric for how much HNWIs give from invested assets – and we'll never have one. Because we'll never know their true total assets.
The Chronicle study looked at people who itemized donations. Not personal foundations, not the 200,000+ donor-advised funds whose numbers swelled at a 7% clip last year. The Chronicle's percentages may be missing a large (and fast-growing) chunk of where major gifts are actually coming from.
 So: our 5% figure on doesn't take into account:
All of the giving that happened

All of the people who made donations, and

Where the assets for major donations actually come from.
AND WHAT ABOUT THIS 'OVER FIVE YEARS' BUSINESS?
I have no idea why we still cling to the notion that gifts are given over five years. Back in the day, capital campaigns used to be seven years long. The first two years involved intense cultivation and solicitation of those closest to the organization (the 'Silent Phase') and then, during the final five years, the campaign was expanded to all donors.
These days, campaigns are more targeted and major donors want to give gifts on a shorter timetable, two to three years typically. World (and personal) finances change very quickly, and everyone needs to be more nimble. So why do we still say 'over five'?

THE $64,000 QUESTIONS
We're operating on an antiquated system that doesn't take into account current realities. Shouldn't we be wondering: Are we low-balling our estimates and missing opportunities?  Is it time to reconsider the way we create our ratings so that they more accurately reflect the reality of the philanthropic world today?
Have you changed your rating system lately? Tell me more!

This post begins a series talking about major gifts ratings and how we derive them. Next week I'll be weighing in on capacity ratings.