This week's article is about a new keen interest of many of us on the HBG team, and especially those of us in the HBGBookClub: offshore finance. HBG's own Mary Taddia sped ahead of all of us and read the whole thing to share her insights and – I hope – pique your interest enough to join us in reading it! ~Helen
---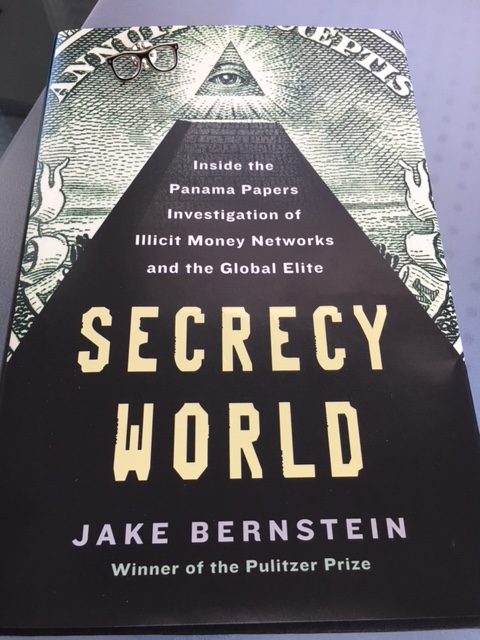 During my time in prospect research, I've had to familiarize myself with ongoing trends in the philanthropic and financial world. As a former English major, I am usually much more comfortable discussing the works of Gabriel García Márquez than I am talking about SEC forms.
But recently, my interest has been piqued by several intriguing books on wealth management and offshore investing. At HBG we are constantly reading and recommending articles, books, podcasts, and websites on these subjects to each other, (and you may have heard that we've formed a book club!).
The book we're reading now (and one of my new favorites) is Secrecy World: Inside the Panama Papers Investigation of Illicit Money Networks and the Global Elite by investigative journalist Jake Bernstein. Bernstein shines a light on the shadowy world of offshore wealth and the Panamanian law firm Mossack Fonseca (MossFon), which played a leading role in the leaked document trove called the "Panama Papers."
Reading Bernstein's book has given me a much clearer understanding of offshore wealth and how high net-worth prospects may use it as an investment strategy. (Note that I did not say "ultra high net worth prospects"—more on this later!) Secrecy World also introduced me to the concepts of bearer shares, nominee officers, and art freeports. Even if you are already familiar with these terms, Secrecy World is worth a read.
Bernstein's book recounts the massive leak of MossFon client's financial records. It was the largest data leak to date (bigger than WikiLeaks), containing 2.6 terabytes of data and 11.5 million files. These records were obtained from "John Doe," an unnamed source who provided them to the German newspaper Süddeutsche Zeitung. The newspaper shared the info with The International Consortium of Investigative Journalists (ICIJ). In turn, the ICIJ enlisted the help of over 300 reporters and news outlets from 76 countries on six continents to create a publicly-accessible database, which can be found here: https://offshoreleaks.icij.org/. (Information from the Paradise Papers and the Bahamas Leaks is also included in the database.)
Bernstein is a former member of the International Consortium of Investigative Journalists (ICIJ). In April 2017, the ICIJ, the McClatchy D.C. Bureau, and the Miami Herald won a Pulitzer Prize for their work bringing details of these leaked documents to the public.
The Panama Papers contains over 360,000 names, including the late father of U.K. Prime Minster David Cameron; Nawaz Sharif, the former prime minister of Pakistan; Dick Cheney; the children of the president of Azerbaijan; Gianni Infantino, president of FIFA (The Fédération Internationale de Football Association); and Simundur Gunnlaugsson, among many others. Gunnlaugsson was the former prime minister of Iceland who stepped down from office after his involvement with MossFon and offshoring became public.
Bernstein devotes the last chapter of Secrecy World to President Trump and the Trump Organization's offshore dealings and Trump's financial ties to Vladimir Putin, who is also featured in the Panama Papers. A book that at times reads like a spy thriller, Secrecy World also discusses Iceland's financial crisis, MossFon's dealings in China and Luxembourg, and the personal stories of former MossFon employees and ICIJ investigators chasing down leads.
Why people offshore their wealth
Offshore investing is a controversial subject. Though legal, many economists, activists and even governments say offshoring contributes to global wealth inequality. Bernstein states that the U.S. alone loses nearly $70 billion a year due to the shifting of corporate finances to tax havens.
Why would anyone choose to invest offshore? Anonymity, asset protection, control, liquidity, and currency diversification, for starters. But the main reason is tax avoidance. According to a leaked memo from MossFon, 95% of its work consisted of selling vehicles to avoid taxes.
It's important to remember that anyone who invests offshore isn't necessarily partaking in criminal activity; establishing an offshore account is completely legal. Tax avoidance is legal; tax evasion is not.
However, once an investment entity is up and running, there is very little oversight. Some investors may continue to abide by the law and use these accounts, trusts, and companies simply to maintain anonymity and control. Others use them to evade taxation or to engage in money laundering or drug smuggling.
Ethical Grey Area
Offshoring is a very grey zone. And $8.7 trillion, or about 11.5% of the world's household financial wealth is hidden in this grey zone.
"We are not angels, but we are not devils either," states Ramón Fonseca at the end of Secrecy World. Fonseca's ambiguous quote highlights the moral complexity of this issue.
As Benjamin Franklin says, "In this world nothing can be said to be certain, except death and taxes", though if you are a high net-worth individual, you can avoid taxes and benefit from the financial loopholes offshore investing offers.
What kind of people make offshore investments? Our prospects: hedge fund managers, private equity investors, art traders, and real estate developers, to name a few. But entry into the offshore world is not only for the uber-wealthy, or even the merely wealthy; setting up an offshore company in the Seychelles with a bank account in Cyprus costs less than $2,500.
How art investors benefit from offshore tax havens
Secrecy World has a fascinating chapter on the $30 billion dollar a year art industry, where over 50% of all sales are private. Bernstein introduces readers to the Geneva Freeport, a highly-secured, private, climate-controlled 600,000 square foot storage facility which contains over 1 million works of art, antiques, and other items from the around the globe.
The estimated value of the freeport's holdings is $100 billion. Any object housed in the freeport is not taxed until it leaves the premises, meaning an investor could buy a painting in New York and have it stored indefinitely in Geneva without paying a penny of tax. Freeports also exist in Luxembourg, Monaco, Singapore, Beijing, and Delaware.
Identifying Prospects With Offshore Wealth
Pay close attention to your prospects with assets in (or pointing to) the Bahamas, Belize, Bermuda, the British Virgin Islands, the Cayman Islands, Cyprus, Curaçao, Guernsey, Hong Kong, Jersey, the Isle of Man, Luxembourg, Malta, Mauritius, Monaco, Singapore, the Seychelles, and Switzerland. And don't forget about prospects with ties to Delaware and Nevada here in the States.
It's also important to keep in mind that we may be underestimating the estimated net assets and gift capacity of prospects who have offshore wealth. According to a recent academic paper on the subject, up to 40% of a high net worth individual's wealth may be hidden offshore.
Though Secrecy World and the Panama Papers have raised awareness about the world of hidden finances, it is by no means a death knell for the offshore wealth industry. UHNWI and HNWIs will continue to find new ways to invest and protect their assets, whether it is through an LLC in the BVI, a shell company in Mauritius, or a foundation in Nevada. MossFon may have shuttered many of their offices due to the Panama Papers, but new companies are sprouting up all over the globe. According to Bloomberg article published last month, the U.S. is the world's 2nd largest tax haven, sandwiched between Switzerland in the top spot and the Cayman Islands in third.
What does this mean for us?
As information gatherers, it's imperative for us to stay on top of emerging financial trends so we can provide value and insight to our end users. Reading Secrecy World is a great place to start, but for those of you who prefer a big-screen version, stay tuned for the film adaptation. Director Steven Soderbergh and Netflix are in the running to create a movie based on Secrecy World and the Panama Papers.
FOR FURTHER READING
Secrecy World: Inside the Panama Papers Investigation of Illicit Money Networks and the Global Elite by Jake Bernstein (Henry Holt and Co., 2017)
Jake Bernstein's website: http://jakebernstein.net/
The International Consortium of Investigative Journalists (ICIJ): The Panama Papers https://panamapapers.icij.org/
BBC: "Panama Papers Q&A: What is the scandal all about?" http://www.bbc.com/news/world-35954224 (April 6, 2016)
NPR Interview with Jake Bernstein: https://www.npr.org/2017/11/20/565319852/journalist-explains-how-panama-papers-opened-up-the-worlds-illicit-money-network (November 20, 2017)
Oxfam's List of Tax Havens: https://www.oxfam.org/en/pressroom/pressreleases/2016-12-12/worlds-worst-corporate-tax-havens-exposed-oxfam-report-reveals (December 12, 2016)
"Income inequality and offshore tax dodging: The rich are richer than we thought" https://journalistsresource.org/studies/economics/inequality/income-inequality-offshore-tax-haven-research. Journalist's Resource, a project of the Harvard Kennedy School's Shorenstein Center and the Carnegie-Knight Initiative.