The book, that is!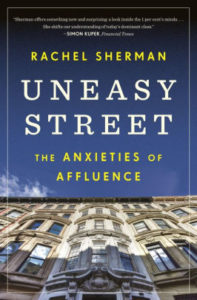 Thanks to the suggestion from one of our members, we've gotten intrigued by Uneasy Street: The Anxieties of Affluence by Rachel Sherman.
Barnes & Noble says:
 A surprising and revealing look at how today's elite view their wealth and place in society

From TV's "real housewives" to The Wolf of Wall Street, our popular culture portrays the wealthy as materialistic and entitled. But what do we really know about those who live on "easy street"? In this penetrating book, Rachel Sherman draws on rare in-depth interviews that she conducted with fifty affluent New Yorkers—from hedge fund financiers and artists to stay-at-home mothers—to examine their lifestyle choices and understanding of privilege. Sherman upends images of wealthy people as invested only in accruing social advantages for themselves and their children. Instead, these liberal elites, who believe in diversity and meritocracy, feel conflicted about their position in a highly unequal society. As the distance between rich and poor widens, Uneasy Street not only explores the lives of those at the top but also sheds light on how extreme inequality comes to seem ordinary and acceptable to the rest of us."
It sounds fascinating, doesn't it? I can't wait for our discussions! Speaking of which, here's the schedule:
May 22 – Introduction & Chapter 1
May 29 – Chapter 2
June 5  – Chapter 3
June 12 – Chapter 4
June 19 – Chapter 5
June 26 – Chapter 6 & Conclusion
Sorry, all of the spaces are now taken. Please do read along with us, though, and share your insights on social media using the hashtag #HBGBookClub.