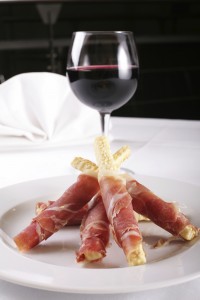 Counter to what you've probably been thinking, I do have more to do than simply wax philosophic about what it means to be a provider of fundraising intelligence. I do sometimes go on a bit when I get passionate about a topic, and I realize that my last few blog posts have been heavy on the forty thousand feet and light on, well, the feet.
So let me come back down to earth and talk about that elevator speech I referred to last week. The practical one. The one that answers the question:
What do you say when someone at a party says, "So what do you do?"  
That can be a sticky-wicket question no matter where you work in fundraising, right? I've had front-line colleagues tell me that people have physically moved back a step when they've said "I'm a fundraiser." Ouch. So we're all in the same boat.
When people ask me what I do, my vanilla statement is: "I help lots of different nonprofit organizations find people, companies and foundations that are interested in supporting the work they do." I say "vanilla" because really, sometimes people are just being polite and they're really more interested in the canapés than your answer. So it's the one-liner before I ask them the same.
But: if they say something like "oh, that sounds interesting" or "you must really enjoy your work" I usually go on to tell a brief story, like:
It really is interesting (or yes, I really do love what I do). In fact, a prospective donor that I identified ten years ago recently gave several scholarships. One of them was so that a kid living in a Nairobi slum who had nothing going for him except brains and guts could schlep halfway across the world to get a university degree. He's now back in the slum – in a shiny new school and community center he set up.
There. See? I've talked about the impact my work makes rather than what I mechanically do.
Because really – think about it.  If you meet a surgeon at a party, do you really want to hear every detail about their last operation? No – they can just say "I perform reconstructive surgery on kids with cleft palates" or "I saved three lives last week" and you're pretty much in awe, right? No need for the gory details.
The gory details
Still, every once in a while, someone will say to me "yes, but HOW do you do that?" So they really do want to know. Which tells me that either:
a) they want to be a prospect researcher (Yes! Another convert! I win the toaster!) or
b) they're potentially creeped out and here's my chance to set them straight.
So here's my more in-depth story:
I used to work at a school of public health and, as you can imagine, most of our graduates went on to work in …public health. Most didn't come from money to begin with, and most weren't ever going to get rich working in public health. So the school couldn't really rely on wealthy alumni to provide scholarships for the next class of needy students.
But the faculty, students and alumni were doing amazing work in just about every country in the world: HIV/AIDS education in Africa; nutrition education that helped prevent kids from being malnourished in the United States; health and human rights work in the Middle East; and cancer prevention work everywhere.
So we got this idea to approach CEOs at multinational companies whose workers were in the geographic areas that the school had an impact. By helping the school's work, they were helping keep their employees and customers healthy.
My job was to use sources like business directories to find the names of those multinational companies and their CEOs. I gave their business contact information to our fundraisers and volunteers. These folks made contact and, if the CEOs were interested, they were asked to become members of an advisory committee in an area that impacted them most.
Usually what would happen is that the company (and sometimes the CEO as well!) would decide to support that work financially. We were able to create 7 whole committees from scratch of industry leaders who had no prior affiliation with the school but who became committed volunteers and donors.
That's my usual how-I-do-it story. Hopefully their eyes haven't glazed over by now, but they asked for it! I keep a few of them in my back pocket – stories that illustrate, with enough detail to satisfy their curiosity without too many boring details.
But really, just keep it simple
Unless you're a celebrity, chocolate dessert maker or rocket scientist, most people are just being polite when they ask what you do. Metrics and database searching and Boolean logic are way beyond what someone really wants to know when they're standing holding a glass in one hand and a mini plate with an awkward hors d'oeuvre on it. Trying to be polite and figure out how they're going to manage this with only two hands.
Offer to hold their glass for them, and tell them a feel-good story.
What's yours?
Special thanks to Ralph Rohrer and all the commenters on last week's blog post who inspired this one.