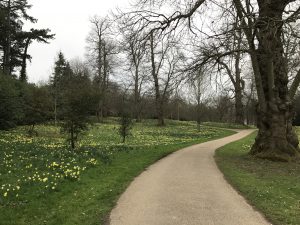 Here on The Intelligent Edge blog we usually concentrate on news, trends, and articles to help you get the most out of fundraising intelligence (or to help you be a better fundraising intelligence practitioner), and we don't talk much about what's going on behind the scenes here at the Helen Brown Group.
But we've got some exciting developments coming up in 2018 at HBG and I wanted to share them with you today because they're pretty cool and they were all created with you in mind.
An enhanced 'members-only' area on our website
If you're an email subscriber to our blog, you're already a member of our Learning Media Library. You have free access to a variety of podcasts, presentations, white papers, prospect research links, and more. (If you haven't signed up yet, what are you waiting for? There's lots of great stuff to watch/read/use/explore!).
But even better, over the next few months, super-instigator Angie Stapleton is going to lead a project to enhance that area even more, with more podcasts, videocasts, how-tos, guides, and presentations to build out a solid and growing resource for our community. Keep checking back, because the real action will start taking place in January.
New profile formats
If imitation is the sincerest form of flattery, we feel pretty flattered when it comes to our profile formats. We hear (or see) fairly frequently that our templates (or versions of them) have been 'borrowed' and are used at many a nonprofit here in the US and abroad. And that's pretty great – we love that fundraisers and researchers find them useful and easy to use.
But hold onto your Ctrl-C and Ctrl-V buttons, we're pulling off a major overhaul to our formats for the new year! After months of re-tooling, monkeying, fiddling, and testing, Director of Research Maureen Kilcommins will be debuting the new format to our à la carte clients in January. We're also happy to use them for any of our beloved dedicated consulting clients that are interested in giving them a try (and, as always, we'll customize them to suit your specific needs). We're pretty proud of them and we can't wait for you to see them, too.
The #HBGBookClub expands to include you!
Every Tuesday, a group of us – not the whole team but a polydactyl handful of us – meet around lunchtime to talk about the latest chapter in the book we're reading together. We started with David Callahan's thought-provoking The Givers: Wealth Power and Philanthropy in a New Gilded Age, and are now finishing up Brooke Harrington's excellent Capital Without Borders; Wealth Management and the 1%.
These lunch-time discussions have tumbled over into our own book club chat room, where articles and discussion fly throughout the week in a flurry of "hey all, did you see this article on Oxfam's list of tax havens??" or "Check out this new type of charity called a "Charitable Authorised Investment Fund! Here's the link…" This book club is a lot of fun, and we keep each other on our toes (and well-informed!).
We invited the rest of our colleagues to join us in our call earlier this week, and it turned up so many great comments that it inspired us to want to bring you into our conversations as well.
SO: in 2018 we're going to let you know what books we're reading so you can join the #HBGBookClub too. When each book is finished, we'll host a Tweet Chat discussion, so we can all share our thoughts on the book and related articles that we've found along the way.
Follow us on Twitter to be alerted to #HBGBookClub activities. There's me,  (@AskHelenBrown), Elizabeth Roma (@ElizabethHRoma), Rachel Dakarian (@Rachel_Dakarian), Kelly Labrecque (@KellyALabrecque), Angie Stapleton (@ARStapleton), Kristina Gropper (@KristinaHBG) and Mary Taddia (@MTaddia).
A wish for the New Year
Thanks so much for reading and sharing our blog articles over the past year! All of us at HBG wish you and yours a happy, healthy, and prosperous 2018! We'll see you back here in the new year!