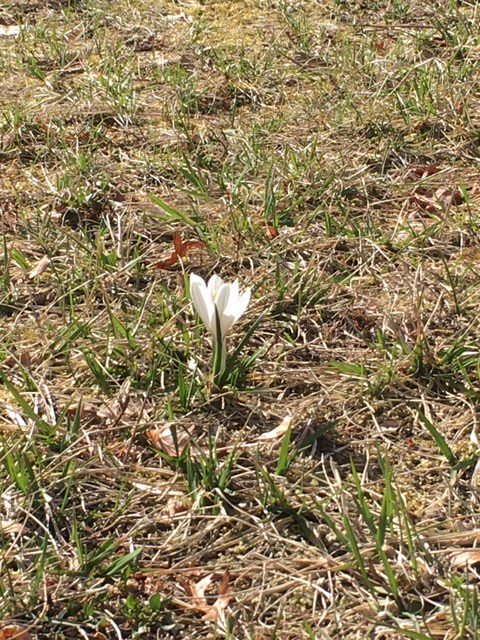 In the past four weeks, I haven't gotten a single solicitation from any of the charities I support on a regular basis. Not by email, not by snail mail, not by text.
One of the newer charities I support has sent two emails with links to video showing them in action, delivering meals to COVID-impacted families, low-income folks, nurses, doctors, hospital maintenance, and more.
But that's it. Everybody else has been dead silent. And my charity didn't ask me to help in either email.
Now, I understand, I'm not a major donor. But I am one of those long-term nonprofit-sustaining regular donors that helps pay for rent and toilet paper and electricity through my unrestricted gifts. It's been my honor to support "my" charities, and I have been under the impression that my support was needed. I'd think so now more than ever. Their silence confuses me.
I'm not alone. There are millions of Americans looking for a way to be helpful. Even in tough times, especially in tough times, people want to give. People do give.
Perhaps the fear is that we might bother people while they're down.
Or maybe some fundraisers are just deer in headlights right now, trying to figure out the "best practice," "right" thing to do and are just…immobile.
I know, we're dealing with a pandemic. This is a whoooole new playbook. But (if there's a plus side to be found) we're also dealing with an economic reality that we've seen before. Many of us lived and worked through the Great Recession, and although it's not what we hoped for, we can do this again.
There's a fundraising intelligence solution to this problem
Just like in the good times, our job as prospect researchers and fundraisers is to find the people and the industries that are doing well right now. We need to build an engagement strategy with them. And move forward. Because they are looking to help and they will give.
Maybe they're current major donors (which is always the best, of course), but they don't have to be. They can be those next-tier people further down in your portfolios, or people, companies, and foundations that you haven't even approached or considered yet.
To help our clients right now, my colleague Angie and I started doing research into companies, industries, and people that are thriving in this upside-down economy, and we wanted to share what we found with you, too. Spoiler alert: there are a lot of people and companies doing well right now. More than you'd think.
Let's start with the companies and industries that won't surprise you a bit, because these are the ones that you are probably personally are relying on right now:
Costco
BJ's
Walmart (hiring 100,000 new workers) and other discount retailers
General Mills, ConAgra, Campbell Soup and other companies making shelf-stable food
Companies manufacturing cleaning products (including small/nimble companies that have pivoted to meet new opportunities like Fabrizia)
Amazon (hiring 100,000 new workers)
Comcast, Charter, Cox, RCN, and other internet providers
Personal fitness equipment companies (treadmills, stationary bikes, weights, etc.)
Companies manufacturing puzzles and games
Online / computer gaming (Nintendo, Electronic Arts, Activision Blizzard, etc.)
Online education companies
Zoom, GoToMeeting, and other videoconferencing services
Project management and collaboration software
Netflix (and Hulu, and Disney Plus, and every other in-home entertainment-related company)
Okay, a lot of those make sense, right? It's easy enough to go to your database and filter on company or industry code to get a list of constituents affiliated with these companies and industries. (As long as you've been gathering that information and keeping it up-to-date in your database. If not, here's your opportunity to get started).
What other companies and industries are making money now?
Healthcare-related (medical supplies, medical equipment, diagnostics, tele-medicine)
Drug / vaccine companies that are in the race right now (Moderna, Sanofi, Johnson & Johnson among many others)
CVS, Walgreens, Rite Aid and other drugstore retailers
Staples/Office suppliers
FedEx, UPS, supply chain services and logistics
Private jet companies (NetJets, Wheels Up, Delta Private Jets, etc.)
Industrial warehousing
Data centers
Alcohol beverage companies and retailers
Cannabis/CBD/hemp-related growers and sellers
Don't forget the individuals that bet on an economic downturn. Hedge fund managers expecting a downturn shorted the market and made billions. Here are just a few:
Boaz Weinstein's Saba Capital Management Tail Fund was up 175% in March, with an estimated gain for Saba's funds at $500 million. According to Reuters, other winners betting on a downturn and winning big included Capstone Investment Advisors, Universa Investments LP, 36 South Capital Advisors, and Cambria Investment Management LP.
You may also have read one of the many articles about Bill Ackman (of Pershing Square Holdings) who earlier this year bet $27 million in shorted high-yield bonds that made him a profit of $2.6 billion. Ackman published this letter to investors which was leaked to the media explaining in detail how (and why) he did it.
There are whole mutual funds designed to take advantage of economic downturns. Just do a search on "tail risk fund" and you'll be amazed at the number of funds that are in the black right now.
These people and companies are not alone. While many of our prospects don't do well in a recession, it's good to remember that some people (and companies) do. Some even thrive, and – like Jack Dorsey – want to help.
But you don't have to look to the billionaires. There are lots of regular fund donors who would love to support their favorite charities right now if you make a good case for why your nonprofit is relevant – and then ask.
Your org doesn't have to be COVID-specific, either. Botanic gardens and nonprofit parks that are open provide much-needed relief now. Symphonies and theaters are reaching out with online concerts and plays to meet our need for entertainment. Libraries, bless them, are still loaning e-books and doing story hours for kids via video.
There are prospects out there with capacity, inclination, and connection to all of our nonprofits. We have to give them the opportunity to be helpful.
FOR FURTHER READING
Coronavirus Business Tracker: How The Private Sector Is Fighting The COVID-19 Pandemic, Forbes
Some Big Investors Smell Profit in Virus-Plagued Companies, New York Times
Hedge Funds Legends Quietly Contacting Investors, Citing Historic Buying Opportunity, Institutional Investor
This Hedge Fund Saw Risks of Coronavirus Early. Now It's Up 36%. Wall Street Journal
The Booming, Cloistered, & Rarefied World of Private Jet Pandemic Travel, Institutional Investor
Grocery delivery apps see record downloads amid coronavirus outbreak, TechCrunch – Includes download numbers. Data supplied in the TechCrunch article available here.
Gaming Stocks Are Holding Up Relatively Well as Consumers Stay Home, The Street
Coronavirus Pandemic Widens Divide Between Online, Traditional Businesses, Wall Street Journal
---
A note of special thanks to my colleague Angie Stapleton, who provided absolutely stellar background research for this article.