You know when you've just done a search and you get to the site and your search term is nowhere to be found. Now that's just confusing. What's going on??
Or maybe you find a great web page with lots of information and you bookmark it and then go back a day/a week/ a year later and the whole page is just …gone? Soo frustrating!!
Or maybe you didn't actually bookmark the page because it was so awesome you just knew you'd remember it – buuut now you've forgotten the actual name of the resource and/or who published it. (Not that that has ever happened to me.) And you could go trolling through your browser history to find it except like a good do-bee you clear your cache and history once a month. So: poof! Gone!
Yeah.
Well, never fear. There's an app for that.
More than one, actually.
Let's start with one of the easiest: Google.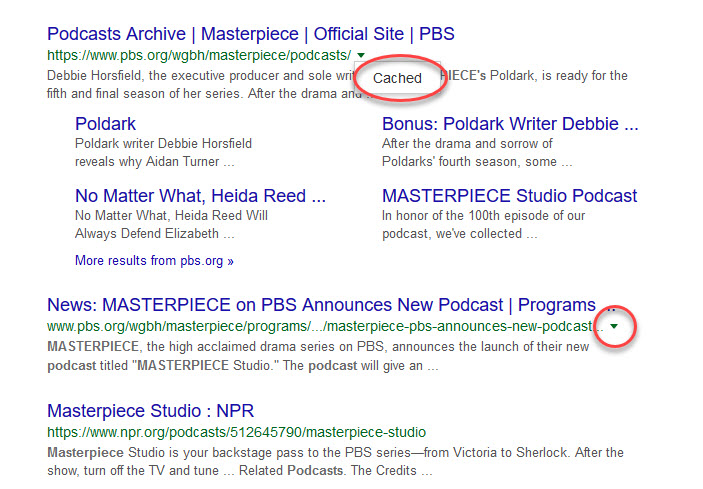 Most of the time, when you do a Google search, you'll see a tiny little down-facing triangle next to the URL. When you click on the triangle, it will pop up with the word 'Cached.'
As you probably know, when you search Google, you're not actually searching the live web – you're searching Google's database of everything they decided to cache from the live web. When you click on the link, you're taken to the live web, and the site may have changed since Google cached it.
So when you go back to the search and click on the word CACHE, you'll be taken to that archived version of the page. There's your search term! Yay!
The Internet Archive's Wayback Machine
If you do remember the name of the resource / website where you originally found the page, and the approximate date of when you found it, it's always worth checking out the truly fantastic Internet Archive (IA) to see if they saved it.

In case you haven't discovered it yet, the Internet Archive is a nonprofit organization with an online "library of millions of free books, movies, software, music, websites, and more." The organization is dedicated to preserving a record of all the information found in the surface web (and a bit in the deep web to a certain degree, as well).
To search for a particular page, go to the Wayback Machine's search bar and plug in the main URL for the site you're looking for. Once there, you'll have a menu displayed of all of the dates that were cached for that website. Pick the one closest to the time you're looking for, and (hopefully) voilà! You may be able to search for the exact URL you're looking for, but I've had less success with that myself.
And there's more there than the IA's AI randomly caching the internet one page at a time. In the past few years, they've also licensed their infrastructure to paying partners who create their own specialty archives, all of which you can search for free. Some of those archives include:
If you haven't been there for a while, it's really worth checking out.
Perma.cc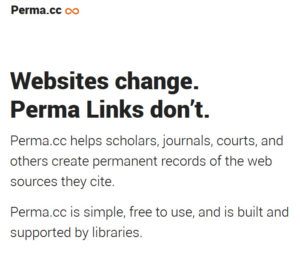 Here's some good news: there's a free resource you can use to help prevent the sort of frustration you've experienced with links not being there.
Let's say that you've created a profile or written an article with links in it and you want your readers to always have access to the web pages you've referred to in your article. Here's where Perma.cc comes in.
Created by Harvard University's Library Innovation Lab, access to Perma.cc is free (although there are fee-based upgrades available for those with serious link-making needs).
Once you create a Perma.cc link the site automatically creates an archive of the content. When someone clicks on that link, they'll be directed to the archived page (sort of like Google's cache) which will also have a link to the live page in case it still exists.
So there you go – three useful resources for making sure you're permanently linked to the information you need. As always, let us know in the comments if there are other resources you find useful as well.
---
These are all resources my team and I use in our work. None of the above have paid or solicited The Helen Brown Group to have their products mentioned on our site.