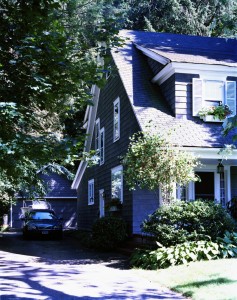 Every so often, the topic of "Should we or shouldn't we include real estate as one of the factors we use to determine a prospective donor's gift capacity" comes up in the prospect research community.
Some folks have this logic: "Well, our prospective major donor is never going to give us their house (or sell their house and give us the money), therefore we shouldn't include it."
Which is absolutely true. (<stage whisper>: I won't mention "planned gift" at this point, okay?)
BUT ALSO
They are never going to sell their yacht, their plane, or their horses just to make a donation, either. They probably won't liquidate their art collection, or the diamonds, or that fur they wore to the benefit. The privately-held company they own will remain unsold. Likewise the stock options that don't convert for another 5 years.
So we should disqualify those assets, too, right?

You can't pick and choose. If you select one non-liquid asset to take off the table, you have to take all of them. Figuring out someone's gift capacity is hard enough to begin with. Purposefully handicapping yourself makes absolutely no sense to me.
I GET IT
Real estate certainly isn't the be-all-end-all, but like all of those other assets I mentioned, it's an indicator of wealth. So, #1, it's information. In a realm where anything concrete is already in short enough supply.

But if that's not enough, here are five more reasons why real estate is important to consider:
2. Real estate is a green flag. When I'm trying to find new prospects in a group of regular donors I may pass over someone who lives in a $850,000 home in San Francisco, but I'm definitely not going to pass over a donor who has a $850,000 condo in Aspen. I'm now going to search for their primary residence.
3. 100% of the world's high net worth individuals (HNWI) own real estate. And for the more privacy-aware amongst them, real estate is sometimes the ONLY hard asset we can find for them. Knowing what kind of real estate they own gives you clues into the type of personality they are, how they may want to be cultivated, and what philanthropic investments may interest them. The billionaire who owns a 12-bedroom party house on Miami Beach is very different from the one living in a three-bedroom ranch in Omaha. Real estate gives you clues that they may be a good prospect for naming opportunities with big splashy events or funding boots-on-the-ground clinics for vaccine delivery and student scholarships.
4. We can use real estate for estimates. According to the CapGemini World Wealth Report 2013, real estate accounted for 20% on average of a HNWI's total assets globally. (In the US, it's 13.5% of total assets; in Europe it's 27%). Even if all you can find is someone's real estate holdings you can still come up with a fairly decent guesstimate of their total assets with that one ratio.
5. Super rich owners of real estate are re-shaping our cities. We need to be aware of who these movers and shakers are, and see if they're among our constituents. According to a recent report by Savills, "Around 3%, or US$5.3 trillion, of the world's total real estate value is owned directly by 200,000 of the wealthiest individuals (0.003% of the global population). These private owners are also very active in real estate that is held indirectly, through private companies and other entities, making them increasingly central to traded investable property…Around 35% of global big ticket deals (US$10 million-plus) in 2012 were only possible because of private funding. The behaviour of private wealth has the power to transform cities." Would you want to miss knowing about one of those titans and how influential they are in your town?
6. Planned giving. There, I've said it. Let's say you work at a college and you've got childless husband-and-wife alumni with a condo in Vermont, a vacation home at Los Sueños in Costa Rica and a primary residence in Boston's Back Bay. They're consistent donors and lifelong volunteers. You bet the planned giving officer needs to know about them. And in this case, it's not only the real estate that's interesting, but also what it tells us about them. Here is an active, outdoorsy couple who possibly enjoy golf, tennis and skiing. A pair that enjoys regular seasonal travel, but whose lifestyle may require extra cultivation time because they are not in town very often.
ONE LAST THING
I know you're dying to ask, so yes, here at HBG we do include primary residence in our total visible wealth calculations on profiles.
We believe it's an asset.