Sometimes when you're in the middle of researching someone, you never know what piece of information is going to provide you with insight into their wealth. This week my colleague Heather Hoke wrote a treat of an article on exclusive golf clubs and how much a person would need to spend (or earn) to belong. Enjoy! ~Helen
---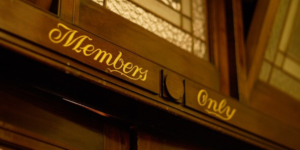 We frequently associate private golf clubs with wealth and privilege. What comes to mind is perfectly manicured grounds, beautiful scenery, a massive clubhouse, parking valets, and members sipping cocktails in a room with an abundance of dark paneling. There is a high price to membership for such clubs with elite rosters, with initiation fees that can reach seven figures, and wait lists that can be years long.
The most exclusive golf clubs are quite secretive about the cost of membership and the process to become a member. Most are by invitation only and require that an existing member (or two or three) refer someone for membership. Then the Board often evaluates each candidate as well.
Among the costs to join a club are an initiation fee, annual dues, and a monthly minimum spend for food and drink. Some clubs also divide up the cost of grounds maintenance among its members.
How do you find out if someone is a member of an exclusive golf club?
I use GHIN (Golf Handicap and Information Network) which is a handicapping service provided by the U.S. Golf Association. There are more than 14,000 participating clubs and more than 2 million golfers using GHIN, and usage has expanded outside the U.S., too. It's a great resource to check if an individual is a golfer and what clubs they are members of, and it is also a way to find possible connections to your organization. Here are some of the priciest clubs:
Augusta National Golf Club in Augusta, GA
Initiation fee: $250,000-$500,000; Annual dues: $10,000+
Home to the prestigious Masters tournament and voted the #1 Platinum Club of the World, Golf & Country Clubs for 2018-19, membership is strictly invitation only. In fact, making it known that you are interested in being a member is a sure way not to be invited! The club's 300 members are not allowed to speak publicly about club policy.
The Bridge in Bridgehampton, NY
Initiation fee: $1 million
It has only about 150 members and is not a traditional club. It has a contemporary clubhouse with a relaxed atmosphere where wearing jeans or a cap are encouraged.
Initiation fee: $200,000; Annual dues: $7,500
To be considered for membership, a recommendation must be made by at least four members.
The Chicago Golf Club in Wheaton, IL
Fees: Unknown
One of the five founding clubs of the U.S. Golf Association in 1894, this club limits its members to about 100.
Initiation fee: $150,000
Founded in 1924, members of Congress and U.S. Presidents are among the membership. There is a 10-year wait list.
The Country Club in Brookline, MA
Fees: Unknown
This was the first country club in the U.S., starting as an equestrian and social club in 1882 (golf being introduced in 1893). It is surrounded by fence and has a guard house with a "guard" that is a mannequin named "Woody." It has been selected to host the 2022 U.S. Open.
Cypress Point Club in Pebble Beach, CA
The fees are determined by yearly running costs which are divided between members regardless of how often they use the club. It has 200-250 members and on average, only 30 golfers play a day.
Initiation fee: $400,000
Members must either have a net worth of $1 million+ (excluding homes and cars) or earn more than $200,000 a year.
Fees: Unknown
It is only accessible by ferry or private plane.
Initiation fee: $250,000+
Described by some as feeling like a new-age luxury hotel, it has its own helicopter approach and landing pad.
Initiation fee: $185,000-$275,000
A home visit and tax returns are requirements for membership.
Initiation fee: $450,000-$500,000; Annual dues: $29,000
Across from Manhattan, it has a marina and private vessel for its 200 members. It cost $250 million to build, making it the most expensive golf course ever built.
Fees: Unknown
It's considered ultra-exclusive and has a strict no 'movie-star' policy. It will be the location for the 2023 U.S. Open.
Nanea Golf Club in Kailua-Kona, HI
Fees: Unknown
Since its creation in 2003, it has become one of the most exclusive, secluded and secretive clubs in the world. Membership is by invitation only and it is even difficult to find by GPS.
Initiation fee: $150,000+; Annual dues: $10,000
Opened in 1909 by a group of Wall Street executives, it has earned the nickname "America's Snootiest Golf Course."
Initiation fee: $75,000+
Apart from Augusta National, Oakmont has hosted more major Championships than any other course in the U.S. and is considered one of the toughest courses in the world.
Pine Valley Golf Club in Pine Valley, NJ
Fees: Unknown
The member list is a closely guarded secret of the Board, who are the only ones allowed to extend invitations to potential members. The membership is male-only, with women allowed to play on Sundays.
Initiation fee: $650,000-$1 million
Membership is capped at 200 at this club on 300-acres of waterfront.
Seminole Golf Club in Juno Beach, FL
Fees: Unknown
With only 300 members, it is so exclusive it even turned down golf pro Jack Nicklaus. Members get to take part in an annual tournament where members are paired with pro golfers.
Initiation fee: $160,000-$200,000; Annual dues: $7,300
It has around 475 members, including many Hollywood stars.
Fees: Unknown
Host of the 2018 U.S. Open, it is the #3 Platinum Club of the World, Golf & Country Clubs 2018-19. Members can invite guests, but guest tee times usually fill up months in advance and there is a $350 green fee.
Initiation fee: $200,000+
It will host the 2020 U.S. Open.
This is just a glimpse into some of the priciest golf clubs. Do you have any to add to the list? What exclusive clubs are near you?