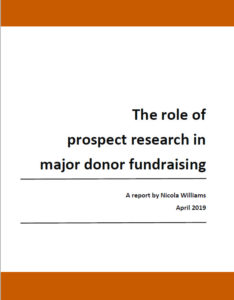 Nobody has ever scientifically measured the role of prospect research in major donor fundraising before. Sure, we researchers have always been confident in our knowledge that research is important for fundraising success, but how do end-users really feel? How exactly is it important? What parts are most useful? How do fundraisers actually use the information they receive?
And – scary question to ask – could fundraisers do as well raising funds without prospect research?
Now we have credible answers, not just anecdotes.
My friend and colleague Nicola Williams from fundraising intelligence firm The Factary in Bristol, England published a white paper this week based on her master's degree thesis called "The role of prospect research in major donor fundraising." It's a fascinating read and honestly, you don't want to miss it, because it answers several burning questions about how research can (and does) have the most impact; what we can do now to remain compliant in the age of the General Data Protection Regulation (GDPR) as well as similar privacy laws being enacted now in the US; and what we in prospect research can do better to measure our impact, further solidifying our value.
Nicola's research entailed surveying both frontline fundraisers and prospect development professionals. Questions focused on the information that is most important and (more specifically) – why it's important – in helping fundraisers achieve their goals. How does a particular type of information move a relationship forward with a donor? What is critical for researchers to provide and what really isn't that important to fundraisers? Can too much research actually be detrimental for forming strong relationships with donors?
Nicola also asked how necessary frontline fundraisers found prospect research in specific situations, including (but not limited to): for due diligence; to understand a donor's capacity to give; to identify relevant prospects; to prepare for a meeting; to prioritize prospects; and to reject unsuitable prospects. The graphs and tables she presents in this area are fascinating, enlightening, and heartening.
A few of my favorite statistics and quotes
There are several quotes I could pull out, but here are just a few that I thought you might like to see up front:
97% of frontline fundraisers reported that prospect research is extremely necessary or necessary for the purpose of identifying relevant prospects.
Although 81% of fundraisers stated that prospect research is extremely necessary or necessary for rejecting unsuitable prospects, less than 30% actually use research for this purpose. (Nicola provides a very sensible reason in her report about what may be going on behind the scenes here).
One fundraiser commented: "The rating system is the most valuable prospect research tool for us."
But that's not all
The first 20 pages of the report would have been useful enough, but the next four pages document GDPR's implications for prospect research and how nonprofits can legitimately document and support its use for fundraising. As your organization continues to systematize GDPR compliance, you'll find the concerns Nicola raises in this section and the following one, on research metrics, to be instructive.
We're big proponents of metrics in prospect research, but are we using the right ones to measure our impact on our nonprofits' fundraising bottom line? Nicola's research shows that the research teams surveyed have lots of room for improvement in what is currently being tracked and what could be tracked. How do your shop's metrics compare to the findings? How could they be improved?
Read it and then comment below
I'd love to hear your thoughts about this very first scholarly report on the impact of prospect research on fundraising. Let's hope it's the first of many master's theses on  the impact of prospect research on philanthropy to come!