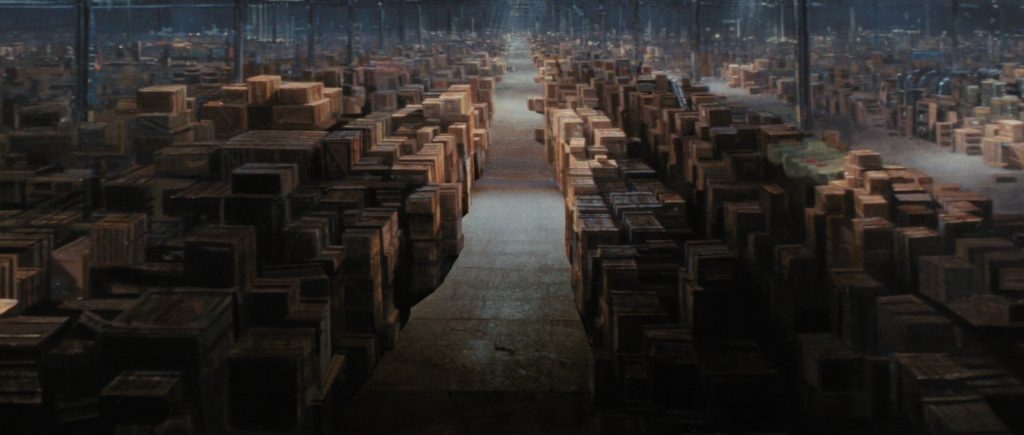 As the HBG Book Club group read about tax-free zones called freeports last week in Jake Bernstein's page-turner, Secrecy World, it was a perfectly-timed coincidence that this fascinating Planet Money podcast came out on that very topic.
In it, reporter Julia Simon recounts her visit to a Sotheby's auction where she bumps into a mysterious Englishman. He tells her that much of the art she saw auctioned off that day will never see the light of day. Eager to learn more about this phenomenon, Simon visits with Amber Noland, a broker/fixer who helps art investors purchase and manage their art portfolios.
Noland describes art investing this way: It's "like a better version of a million-dollar apartment. Sure, it's a place to invest a bunch of cash, but you can't move an apartment anywhere in the world whenever you want."
And for Noland's clients, moving that art somewhere else around the world is very important. And that somewhere else is called a freeport.
What are freeports? And what do they have to do with art?
Back in 1888, Swiss farmers and agri-traders, bless their clever hearts, set up warehouses called "free ports," a neutral location where they could store and sell their grain, paying the duty they owed only when (and at the rate where) their goods were sold.
It was a useful way to temporarily defer taxes. And back in the 1880s, because of the perishable nature of the goods involved, the tax collector didn't have to wait overlong to get their money. Freeports thrived and grew in number around the world.
It didn't take long for the wealthy to cotton on that you could buy and store non-perishable valuables in a freeport, too, like tapestries, gold bars, or diamonds. That could mean a buyer could defer tax-paying to their great-grandchildren's great-grandchildren. Or, if they decide to sell an item from their freeport storage room to another storage-room renter, they'd never have to pay tax on it. No import duty, no sales tax, no export tax. No tax.
Once other countries saw what Switzerland was doing, competition soon began to emerge. Today there are thousands of free ports and free trade zones worldwide. The ones in Switzerland (including Geneva, Chiasso, and Zurich) are still the most popular, but there are significant facilities practically everywhere, including in Luxembourg, Hong Kong (the entire island of which is a freeport), Beijing, and the United States. In fact, there are more than 230 free trade zones and almost 400 sub-zones in the US alone.
These days they're filled not just with tapestries, antiquities, gold, and diamonds, but increasingly with paintings, sculpture, and other forms of art. Acres and acres and acres of art.
Complete secrecy
Due to the secrecy surrounding freeports it's impossible to know exactly what or how much is stored within them, but it's estimated that it's in the hundreds of billions of dollars' worth of valuables.
A renter is not required to tell anyone what's in their storage unit (as long as they don't want to insure it). Security, discretion and confidentiality are all part of what a renter receives in exchange for their ~$5,000 – $12,000 annual fee for a small room. One compound in Luxembourg has over 300 cameras in the facility; access is all biometric, of course.
Some freeports are being fitted into caves, others are opening in disused mines. And they are filling up almost faster than they can be built or dug. That Luxembourg facility, a 4-story, 22,000 square meter warehouse was already over 60% capacity before its ribbon cutting in 2014. An enormous state-of-the-art freeport built in Singapore with vibration-detection sensors and 7-ton vault doors was nearly full within 3 years. The auction house Christie's immediately rented nearly a third of the facility to store art for its clients; Deutschebank opened a vault to hold nearly 200 metric tons of gold bars; and Stamford Cellars rented space to store wine there for its clients.
As a client of Christie's or Deutschebank or Stamford Cellars, an asset-holder also gains an extra layer of confidentiality by allowing that company to take care of their asset for them. If they want to sell it, the company can manage that for them hassle-free. There's also the added benefit of a discount on the insurance fees; insurance is always cheaper if a work of art is stored in a secure facility, but if you can get a third party like Christie's to pay for your insurance, more's the better.
There have always been art collectors who buy art to enjoy on their walls and plinths, and those sorts of prospective donors are very visible to us as art lovers, collectors, and donors. But as art is increasingly being bought solely to diversify someone's asset portfolio and stored in a warehouse rather than hung visibly on a wall, it's important that we're aware of the existence and growth of these shelters to better inform ourselves and the fundraisers we work with of resources our prospective donors are likely taking advantage of.
 The Nahmad family of Monaco is rumoured to have dozens of [Picassos] stored away, and has been criticised in the past for keeping up to 90% of their 3,000-strong collection in freeports (by comparison, Britain's National Gallery houses 2,300 pieces)." – from "Hidden Treasure: A look into the world of freeports" by Jessica Tasman-Jones, CampdenFB
"These warehouses are the Purgatory for art," my colleague Kristina observed in our book group gathering this week. We wondered together: with millions of antiquities and works of art – an estimated 1,000+ works by Picasso alone – stored in vast purgatorial limbo, what can museums (and governments) do to encourage owners of these enormous collections to share pieces publicly in a way that works to the owners' tax advantage?
---
FURTHER READING
"Art Freeport Coming to New York; what are its implications?" The Ackerman Blog (Ackerman's Fine Art & Advisory). March 13, 2017. http://ackermansfineart.com/art-freeport-coming-new-york-implications/
"Are Free Ports Transparent And Good For Art?" by Lisa Karczewski. Art Law blog (Fox Rothschild LLP). May 31, 2016. https://artlaw.foxrothschild.com/2016/05/articles/art-finance/are-free-ports-transparent-and-good-for-art/
"One of the World's Greatest Art Collections Hides Behind This Fence" by Graham Bowley and Doreen Carvajal. New York Times, May 28, 2016. https://www.nytimes.com/2016/05/29/arts/design/one-of-the-worlds-greatest-art-collections-hides-behind-this-fence.html
"Freeports for the Art World; a guide to their uses." by Diana Wierbicki and Amanda A. Roddermund. WealthManagement.com, Feb 19, 2016. http://www.wealthmanagement.com/art-auctions-antiques-report/freeports-art-world
"The Bouvier Affair; How an art-world insider made a fortune by being discreet." by Sam Knight. The New Yorker, February 8 & 15, 2016. https://www.newyorker.com/magazine/2016/02/08/the-bouvier-affair
"Hidden Treasure: A look into the world of freeports" by Jessica Tasman-Jones. Campden FB blog, January 23, 2015. http://www.campdenfb.com/article/hidden-treasure-look-world-freeports