Great pieces of information can come our way from any number of sources, often when we're least expecting it. In this week's article, HBG Senior Researcher Tara McMullen shares some great advice on how to spot clues that can lead you down a path of discovery.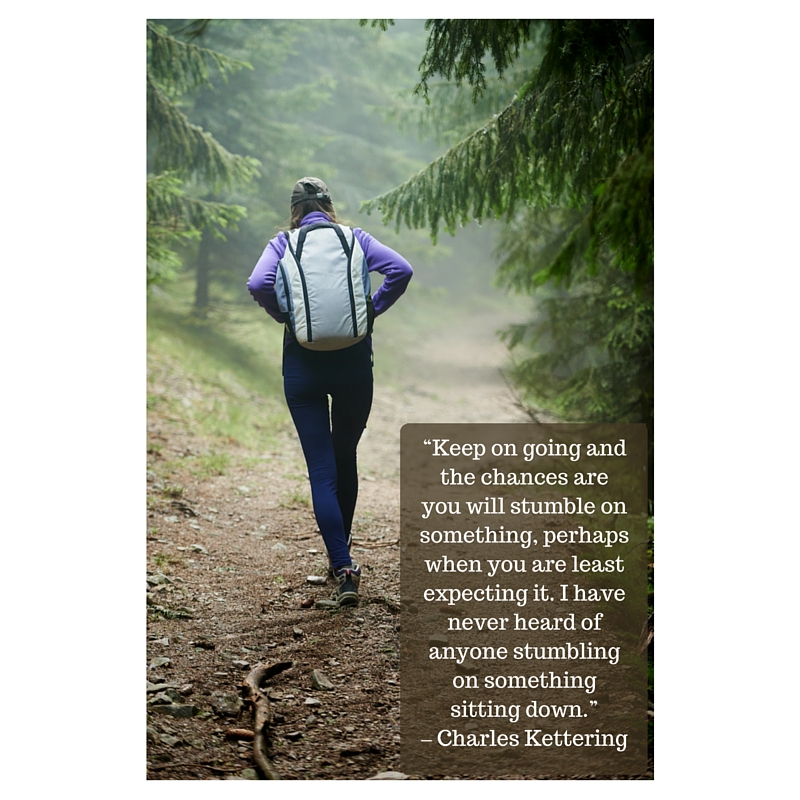 The inventor Charles Kettering, who held more than 180 patents and was responsible for major revolutionary advances in the automotive industry, was clearly no stranger to the field of research and its challenges. As a fundraising researcher, I often take his words to heart. In our field, we sometimes spend hours scouring resources, seeking to find as much information as we can on a prospective donor –those useful bits and bytes that we need to obtain useful insight. What has their career looked like? Who are the members of their family? Where do they live? And, ultimately, do they have a passion for philanthropy, and the financial resources to generously support this passion?
Most of the time, we can find the majority of the information we are searching for off the bat – provided that we know what resources to use, and how to conduct our searches effectively. However, sometimes pieces of information that might prove to be supremely useful to us just aren't right there out in the open – or even in those caves we can sometimes find ourselves in, shining our searchlights into dark recesses of the web like the expert search spelunkers we are. Oftentimes, we find ourselves stumbling upon pieces of information that could just be a box-filling notation, but these pieces of information, if pursued for an extra step or two, could just open up a path to a discovery of something much, much bigger.
Tripping over the Rockies
For example, let's say you are looking at John Smith, a prospect who resides in Manhattan and who appears to have considerable potential. While perusing a list of his previous philanthropic gifts, you see that he has supported national causes as well as local organizations in the New York region… then all of a sudden, you see that he has made several gifts to a land conservation group in Wyoming. You could just stop there, make a note of these gifts in your profile's "visible philanthropy" section, and move on further down the list.
But this gift may indicate something more – a direct connection to Wyoming, possibly a vacation home that you hadn't previously discovered. If you continue this lead and conduct an additional targeted search to shed light on how John is linked to Wyoming, you may find real estate holdings in the area (maybe held in an LLC or a trust) that didn't immediately reveal themselves from an initial search for John's property ownership.
How does he get to Wyoming?
Another example – say you are looking at the same John Smith and you stumble across a news article that indicates he is an avid pilot in his free time, and owns his own plane. You then go to Landings.com  and use their "owner search" to try to find a record of his aircraft ownership to get more information on his plane. You find a hit, and the information returned includes pertinent details – the aircraft specs, the owner name, and (…drumroll) the owner's address. It may be the case that the owner address listed is NOT John Smith's primary residence in New York City – it is a different address, which may correspond to a second or third home that you hadn't previously known about.
Where he docks his boat…
Or maybe the John Smith you are researching isn't a plane owner, but owns a boat (maybe even a superyacht, if you're really lucky). By diving into public records of documented commercial and recreational vessels you can search for his boat using individual owner name, business name, OR vessel name (if you know it). You conduct your search, have a hit, and the information returned includes the vessel name, owner name, owner address, vessel specs, and… hailing port. In the case of our New Yorker, John Smith, you see that his boat "resides" in San Diego – which may indicate that he has a home in that area (or possibly a business tie to San Diego that you hadn't known about before). Using this information, you can follow up and conduct a targeted search for John Smith + San Diego, which may lead you to discover significant information – such as his ownership of a lovely third home in that area.
…and plays golf
In addition, maybe you find that your John Smith also likes to spend his remaining free time playing golf. You can do a general search of the USGA Golf Handicap database to look up stats – the results returned include the golfer's name, his or her handicap, AND a list of the country clubs with which that person is affiliated. You may see that your John Smith is listed as a member of a country club in Palm Beach – which indicates a connection to that area, and gives you a potential real estate lead that you should follow up on.
Meanwhile, back in Manhattan…
Maybe you see that John Smith is on the board of a prep school in Manhattan. You could just note the affiliation and move on, or perhaps at least take it one step further to see if he is an alumnus of the school. You see that the school isn't his alma mater – it thus might make sense that he has a child enrolled at the school. You can then consult the school's website and search there directly by using an integrated Google tool (if the site offers one) – OR you can use Google's Advanced search to conduct a targeted search on the school's URL, perhaps using the last name "Smith" and terms like "parent," "son," or "daughter".
Or maybe you know that John Smith does indeed have a child named Jane. You know her first name and the name of her school, but not much else. Using either of the aforementioned search capabilities, you can conduct a search to find additional information. Let's say you find that Jane rows on the crew team. Many schools offer athlete profile pages that include biographic information for the student, such as parent's names, parents' professions, sibling names, previous schools attended, and their city and state of residence. In the case of Jane Smith, her athlete profile could indicate that she previously attended a private school in England. You can take this bit of information and continue to search for any connections that John Smith might have with London or England. You may be lucky enough to find an additional home, or additional professional or nonprofit affiliations he has there that were previously unknown to you, since you were focusing your search on New York and the United States.
As you can see, sometimes there isn't a clear-cut, direct path to the information that can be incredibly useful in providing a holistic view of a prospect. Sometimes your path is populated by stumbling blocks that you can deftly turn into stepping stones. Other times you just need to look at what is in front of you, back up a step or two, and a new pathway towards insight will reveal itself.