Want to know more about high net worth individuals and the art they hold? This week we welcome my colleague Kristina Gropper to the blog to share her insights into some fascinating reports out that cover the wealthy (including Millennials and Gen-Xers) and their collections. Kristina has also researched and shared a great resource list at the end of her article if you need to do further prospect research on art-owning constituents. Once you're finished, visit the HBG Prospect Research Links pages where they're all bookmarked for you! ~Helen
---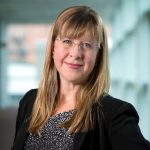 After graduating from college, I moved to New York City with two suitcases and a dream to work in the arts. One of my first jobs was as a legal assistant at the Metropolitan Museum of Art, which celebrates its 150th anniversary this year. Working at the museum was a great steppingstone, and one of the perks was getting lost in the museums labyrinthine basement or finding an alternative route to the administrative offices in another wing. I experienced similar joy and delight while immersing myself in a few recently published reports that cover art and wealth. This post summarizes key takeaways that may help in researching donors and prospects for your organization.
An Art Basel & UBS Report: The Impact of COVID-19 on the Gallery Sector: A 2020 Mid-Year Survey
Arts Economics, a research and consulting firm focused exclusively on the art economy, produced this mid-year study in collaboration with a sociologist from Duke University. This report focuses on how COVID-19 has shaped the gallery sector and has changed interactions with galleries and the art market. The survey also reports the response of 360 collectors in three major art markets: the US, the UK, and Hong Kong SAR (China).
According to this report:
Despite the pandemic, 92% of high net worth collectors have purchased art in the first six months of 2020.
In 2020, over half (56%) of high net worth collectors spent over $100,000 on art and 16% spent over $1 million.
59% of high net worth collectors experienced in increased interest in collecting.
The Art Basel & UBS Art Market Report 2020
Arts Economics partnered with UBS to conduct this study. They surveyed over 1,300 high net worth individuals. All respondents had household investable assets in excess of $1 million, excluding real estate (see figure 6.14 for further breakdown).
According to this report:
Art was perceived as a haven for capital when financial markets were uncertain.
Global art sales hovered at $64.1 billion. The three major art hubs (US, UK and China) accounted for 82% of global art sales. The US accounted for 44% ($28.3 billion) of global art sales.
There were an estimated 167,349 ultra-high net worth individuals around the world. They are important consumers in the luxury market.
Around half (49%) of millennial high net worth collectors in the US were most likely to purchase a work of art $1 million and above. This was followed by Gen-Xers (21%) and Boomers (3%). Millennial collectors averaged a total expenditure of $3 million over the two years (2017-2019).
The following chart breaks down the wealth brackets of collectors by geographic area: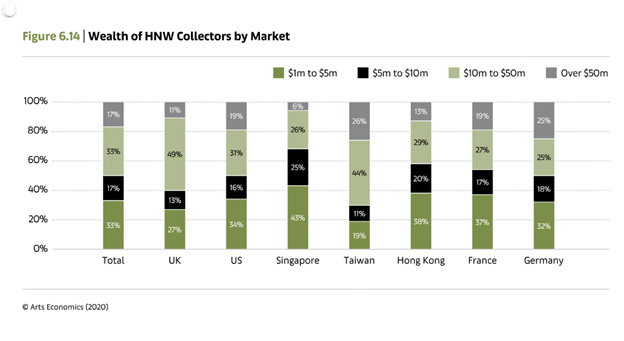 Knight Frank Report 2020
The Knight Frank Report utilizes The Attitudes Survey, which is based on responses from 620 private bankers and wealth advisers managing over $3.3 trillion of wealth for ultra-high net worth individuals. The survey was taken during October and November 2019.
According to this report:
Collectibles account for 5% of their North American clients' investment portfolios. The report lists the following percentages allocated to collectibles (including art, wine, and cars) as an asset class:
Barclays Report from 2018
Ledbury Research surveyed 2,000 high net worth individuals ($1.5 million+ in investable assets) and 200 with more than $15 million. Respondents were drawn from 17 countries around the world, across Europe, North America, South America, the Middle East and Asia-Pacific. The interviews took place during January and February 2012. Ledbury Research also conducted a series of interviews with academics, professionals, and other experts from around the world.
According to this report:
Treasure assets, including fine art, jewelry, and antiques, comprise 9.6% of a wealthy individual's total net worth.
Women's treasure assets account for 11% of their net worth compared to 9% for men. These figures are based on self-estimated calculation of treasures that individuals own.
Precious jewelry is the most popular category for wealthy individuals to own (70% overall and 81% among women). Jewelry is popular due to its intrinsic value. The report explains that in some cultures there is a tradition of holding onto a proportion of wealth in assets like jewelry, which can be easily transported in the event of an emergency.
Collectors of classic automobiles who have already started a collection — although relatively few and far between in the survey — have invested an average $641,000 in their hobby.
The top motivation for collecting is enjoyment. The emotional motivations for wealthy individuals to own treasure can be grouped into three main categories: enjoyment, social, and heritage.
The report charts the percentage of wealth held in specific treasure assets. This may be helpful if the only piece of information you find is the value of a prospect's wine or stamp collection: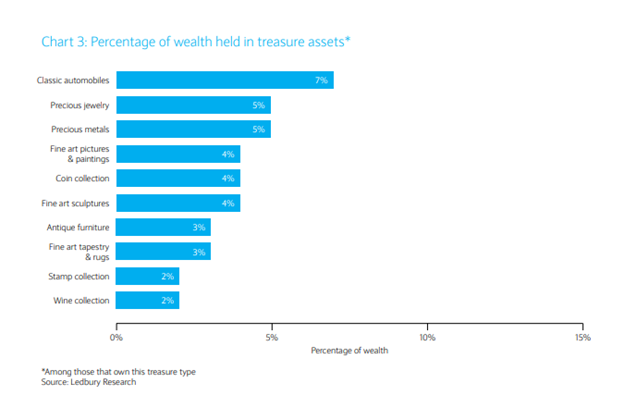 Sources:
McAndrew, Clare, An Art Basel & UBS Report: The Impact of COVID-19 on the Gallery Sector: A 2020 Mid-Year Survey
McAndrew, Clare, The Art Basel & UBS Art Market Report 2020
Knight Frank, The Wealth Report 2020
Barclays, Wealth Insights Volume 15, Profit of Pleasure? Exploring the Motivations Behind Treasure Trends 2018
FOR FURTHER RESEARCH:
In addition to key points from these recent reports, here is a list of resources that cover the art market: