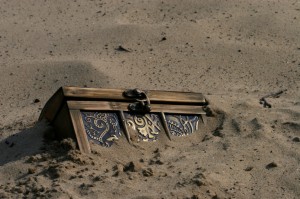 Imagine that it's 10 am on a Thursday morning and you have just discovered a new seven-figure prospect for your organization.
This prospect is an active volunteer and a recent donor.
She's expressed a firm endorsement of your organization's mission in the press, and she has undisputedly significant wealth.
You're going to run down the corridor and tell everyone, right?
How? What is the first thing you're going to say?
Will it be …
"Hey everybody! Susan Smith was born on December 15, 1958. She is the recently-retired chair of SuperMega Corporation which has sales of … She and her spouse Bob have four kids, Timmy, Becky, Mar…"
Is that what you want to lead with? Is that really your best shot?
Of course not!
You're going to holler, "Hey everybody!! I just found us a million-dollar prospect! She loves us! She's a volunteer! She just got $50 million from the sale of her company and retired at 55! She plays golf with the best volunteer we've got! She's already a donor!
Wahoo!!"
Right?
So why do most of us bury the lead in our research reports?
Most of the time prospect research profiles are written as biographical dossiers.
Vitals first, spouse and family, business and career, then the money, then the philanthropy, blah blah blah.
But…
We can't afford to waste our resources creating profiles that nobody reads. It's demotivating to see our work just sitting there on the shelf, unread.
And what's worse, if we lose peoples' attention before they get to the good stuff in a profile, we run the risk of someone missing the best prospect that ever showed up.
Here's What You Need to Do To Breathe Life into Your Profiles
Three tips for getting your research noticed and making it actionable:
1. Don't bury the lead. Put the best stuff right up front, page one. Make it clear: what are the significant points busy people need to know about this prospect? Shout it out just as if you were running down the hall.
2. Go out on a limb. Have an opinion, and tell people what it is right up front. Until a prospect is met, you are the person who knows the most about them. Make it clear: why do you think a fundraiser should take action on this prospect?
3. Follow up. We're all fundraisers, whether we work on the front-lines or behind a computer screen. We work together as partners. If you aren't seeing action on a significant prospect-in-waiting you found, speak up! Maybe you can help research a way to involve them.
Help me on my mission to resurrect our prospect profiles!
I'm curious. What do you do to get yours noticed?