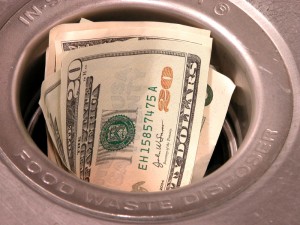 "Yes, we did a wealth screening a couple of years ago. We didn't really find it very helpful." <pause>
"Well, to be honest, we didn't really do anything with the information when it came back. It just kind of sat there."
If I had a twenty for every time someone said that to me I'd be making major gifts already.
It absolutely kills me, too, because wealth screenings
     a) are not cheap, and
     b) can be worth every single penny.

No matter which screening company you use, no matter if your organization's database is tiny or gargantuan; every single nonprofit can get something great out of a wealth screening.
And no, the screening companies are not paying me to say that.
Wealth screenings are a waste of money when people aren't prepared for the process.
I guarantee there is no way you're going to waste money on a screening if you follow these steps:
Take two hours to make a plan. Here are the three biggest questions to ask:
What do we need to know from the results?


Be very specific about your goals, and plan ahead for how to measure progress. How else will you know if you achieved success?

Which records will we send?




Decide how you're going to segment. Is it based on your budget? how many returns you can reasonably get through? a specific constituency type that you need to know more about? Or do you want (or need) to send the whole group to get a baseline?

Who will be responsible for dealing with the information when it comes back?




You will need to clear the schedule of the person dealing with the returns so that they have the time to do the analysis, verification, rating, coding and uploading needed. If you can't, stop right now – seriously. This is the top reason why screenings fail and are a waste of money.
These three questions are the make-or-break for a screening's success. After you have the answers to those questions, here are a few other pieces of advice for a much-improved experience:
Choose someone (internal or a prospect research consultant) who has experience with screenings to liaise with the vendor. It's important to have the best data in the right format to send off. If you send bad data, you will get bad data back – it's as simple as that.
Do a test screening. Each of the vendors will allow you to run a certain number of records through their matching system as a test.
Chose three groups to send: people you know very well (45%); people you don't know very well (selected at random) (45%); and members of staff who have agreed to participate (10%). This last group isn't necessary but it can really help you zone in well on where gaps lie and what you need to focus on in the analysis.

Send THE SAME group off to more than one vendor.

Verify these results just as you will when the full-scale screening results come back. This will help you budget and plan for the time needed to do the real analysis work. You can get a feel for what needs to be done, and see which vendor provides you with the most useful information in a format you can work with best.
Understand that a wealth screening (like Lexis Nexis or Google) is just another tool in your prospect identification toolbag. It's a power tool but it's not the be-all end-all.
Be an educated buyer. Screenings will only find what is publicly-available. If you want to know about the properties your millionaire constituent holds in trust, or the extent of someone's private art collection, you will need to utilize entirely different tools. You really can't blame a hammer for not being a screwdriver.
Rescue the money you would have wasted
You can get so much out of wealth screenings! Check out this free podcast my colleagues and I put together to help you be successful and get the most for your investment.
For those of you who have gone through screenings before, do you have any other advice to share? Share your success tips and tricks!