This month, I'm delighted that HBG Senior Researcher Elizabeth Roma shares her insights on Ultra High Net Worth Individuals (UHNWI) and their potential to affect transformational change in the world through philanthropy. Elizabeth and Kenny Tavares have been studying the infrastructure and impact of HNW Family Offices, and she will present a session on the topic in June at the Mid-Atlantic Researchers Conference in Baltimore.  I hope you'll be able to join her there!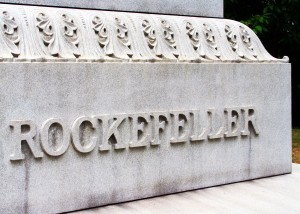 Do you want to hear something that will blow your mind?
In 2010 there were 388 billionaires whose combined wealth was equal to the combined wealth of the poorest 50% of the world's population.
Amazing, right? But that's nothing.
In 2014 there were 80 people whose combined wealth equaled that of the poorest 50%. According to a report from Oxfam, the wealth of those 80 people has doubled since 2009. If these trends continue, Oxfam predicts that the richest 1% will have more wealth than the remaining 99% by 2016 (yes, that's next year).
Things are changing, and not necessarily for the better (at least not for those of us in the 99%). But does this have to be all bad news?
In his book Billionaires: Reflections on the Upper Crust, Darrell West of the Brookings Institution highlights the influence that these individuals have on politics. He raises important questions about transparency and the dangers that unchecked political spending could pose to representative democracy. But it got me thinking about the power that these people wield and the enormous potential that they have to create real and lasting change through philanthropy.
Take, for example, the Giving Pledge, a campaign led by Bill Gates and Warren Buffett that encourages the world's wealthiest to commit the majority of their fortunes to philanthropy. To date there are 128 signers of the pledge (including 11 of those 80 people I mentioned earlier), with a combined net worth estimated to be about $600 billion. As long as people make good on their pledges, that is an enormous sum headed for charity.
In his book, West cites the example of Mo Ibrahim, who established the Ibrahim Prize for Achievement in African Leadership. The prize awards $5 million plus $200,000 annually for life to a former Executive Head of State or Government. It celebrates leaders who are democratically elected and "who have developed their countries, lifted people out of poverty and paved the way for sustainable and equitable prosperity." The prize has been awarded three times to date and has recognized peaceful transitions in leadership in Mozambique, Botswana, and Cape Verde. Ibrahim might not be able to take credit for single-handedly bringing world peace just yet, but maybe it's a start.
And let's consider what happens if a couple of billionaires join forces philanthropically: In 2006 Warren Buffett announced his intention to donate what will ultimately amount to about $58 billion of his Berkshire Hathaway stock to the Bill and Melinda Gates Foundation. The Gates Foundation is perhaps the most obvious example of how strategic philanthropy can have a transformative impact on challenges that once seemed intractable.
In 2013 Bill Gates discussed his philanthropy with Bloomberg Businessweek, citing the progress that the foundation has made toward its goal of eradicating polio by 2018. He observed, "By getting vaccines out, we've had more progress in the last decade than ever before." The foundation also hopes to eradicate Guinea worm, elephantiasis, river blindness, and blinding trachoma by 2030. In their annual letter for 2015, Bill and Melinda Gates predict that the next 15 years will bring dramatic improvements to the lives of people in poor countries. They write, "we think there has never been a better time to accelerate progress and have a big impact around the world."
According to the Chronicle of Philanthropy, America's 50 most generous donors increased their giving by 27.5% last year, contributing a total of $9.8 billion. It is worth noting that 47% of the total donated by the individuals on the Philanthropy 50 list came from 12 people who made their fortunes in the tech industry. Three tech entrepreneurs under the age of 40 made donations of more than $500 million each. These are people who are natural problem solvers, who made their fortunes not primarily because they set out to get rich but because they wanted to figure out a way to make stuff work better. They do not come from enormously wealthy backgrounds, and they do not appear to be driven by a desire for enormous wealth. And they are young. What if they could be persuaded to use their wealth and talent to tackle problems like world hunger, clean water, or infectious disease (just to name a few)?
Clearly there are legitimate concerns about the increasing concentration of wealth in the hands of a very few people. But there is also the potential for these individuals to use their staggering wealth to make a better world for us all.
The challenge for those of us in the nonprofit sector is to think boldly and demonstrate to these individuals how they are uniquely positioned to address problems that, with their philanthropic investment, will no longer be insurmountable.
A sampling of information on Family Offices to whet your appetite for Elizabeth's presentation:
Philanthropy Grows in Asia as Family Offices Chip In (Channel News Asia)