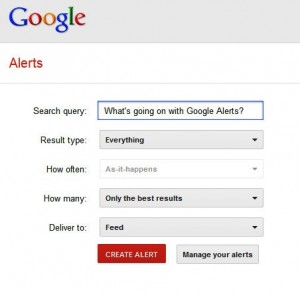 Several people have asked me lately about the demise of Google Alerts so here's a little background for you as well as links to selected resources for more information and better results.
In case you've never used Google Alerts, here's what they are: Google has a page where you can set an alert on a search string to automatically run the search and have results sent to you on a schedule of your choosing. Until recently, this notification could come by email OR via a very handy direct pipeline called an RSS feed to a free Google Reader account.
THE BEGINNING OF THE PROBLEM
Unfortunately, and to a great deal of hue and cry, this past July Google pulled the plug on Google Reader and on the ability for users to receive Google Alerts via an RSS feed. Alerts could only be received via email.
Coupled with all of this was evidence that Google Alerts were not working as well as they had been in the past. Noted search engine expert Danny Sullivan reported that his alerts were significantly reduced and he wondered (as many others did) if this signaled the demise of Google Alerts as well.
However, in September of this year it was reported by a few who noticed that Google Alerts were again available via RSS feed – not that Google made a splashy big deal of it. Quite the contrary.
SO WHAT'S THE DEAL?  
We really don't know if Google Alerts are going away, or if they are going to remain but be unsupported, or if they will eventually be phased out like Reader. It certainly appears to experts that alerts are not being supported by Google now as they were in the past. Notifications are now available again as RSS feeds, but that is small consolation if the information you receive is sparse compared to the amount of information that is truly available within the search engine's database.
ARE THERE ALTERNATIVES?
We certainly haven't stopped using Google Alerts here at HBG, but we are using alternatives, both free and fee-based. Two of them are Lexis Nexis and Mention, but there are many for you to choose from. My feeling is: even if Google Alerts give good results, there's no harm in being sure you're getting the full scope of what's available within your budget.
Are you using Google Alerts or an alternative (or both?). Do you have recommendations?
Reading list: (articles in order of appearance in post)
Warren, Christina – Mashable: Are Google Alerts Dying? 22 March 2013
Sullivan, Danny – Search Engine Land: Dear Google Alerts: Why Aren't You Working?  15 February 2013
Protalinski, Emil – The Next Web: Google Alerts regains RSS delivery option it lost after Google Reader's demise.  11 September 2013
Dembak, Yoav – VB Social: 7 Apps to Help You Replace Google Alerts. 13 May 2013