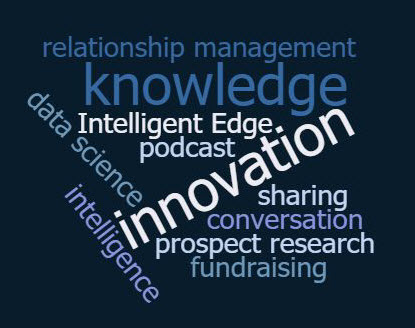 This week I'm very excited to share with you a podcast I recorded earlier this week with Mark Dumich and Ling Sun of the University of Notre Dame. Their department is doing innovative work to help strengthen and create parity amongst their fundraisers' portfolios.
In our podcast, Mark and Ling shared with me the questions they were trying to answer, their step by step actions, and some unexpected (but welcome!) outcomes. Mark explains their plan:
 The Portfolio Strengths Model was developed at the University of Notre Dame to better understand both the strength of a prospect and the quality of a portfolio.  As fundraisers expressed concern about the giving potential of their prospects, we decided to score various attributes of those individuals to get a better assessment of their value. It moved the conversation away from how a development officer feels, and back to objective data points that we can all agree on.

It's very easy to evaluate a fundraiser on the number of dollars he or she brings in to the organization, and it's important, too. Unfortunately, that metric has some significant shortcomings when you consider that not all portfolios have the same potential. So how can we more accurately measure a fundraiser's performance? When we viewed production relative to the strength of a portfolio, it highlighted a lot of incredible work that had been achieved at all levels of philanthropy within our organization."
We're especially fortunate that, not only did they speak with me for 30 minutes, they also generously provided a step-by-step worksheet of their project, so you can do it, too!
The podcast is below, and the worksheet is in our free member area. Warm thanks to Mark and Ling for sharing this with us!