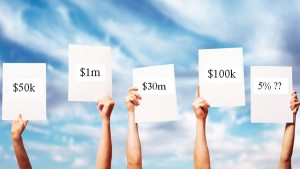 We've been dead wrong in our calculations of gift potential for major donors.
We don't have the right information. And we're using what we do have the wrong way.
 Let me set the stage: normally when we're calculating a major donor's capacity to give we look at their total visible assets and calculate that they will give 5% of that over five years to charity. Where does that ratio come from? The IRS, the Chronicle of Philanthropy and Giving USA are the three big resources for philanthropic giving information in the US.
The 5% figure we've been using isn't real