This week we welcome Angie Herrington to The Intelligent Edge. Over the years, (and many many opportunities), Angie has become an expert on building great news alert systems. It's not as easy as it might seem, and Angie's constructed some clever catch-alls over the years. This article is an update to one that she did a few years ago with even more helpful tips.  -Helen
---
How can news alerts be important to your organization?
They're real-time due diligence.
A way to start or cultivate a relationship.
It's timely and strategic information that we can use to make an impact as information providers.
The days of physically or even digitally reading newspapers cover to cover are long behind us. Finding the right resource and search string will help you make the most of your time.
Because what we say about alerts is what we say about databases – what you put in is what you get out.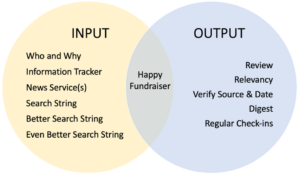 INPUT
Menu of Options
When doing news alerts, you have to narrow the focus and your time. Is your frontline colleague only looking for red flags? Career and board changes? Or news about philanthropic gifts? Received an honor or award?
For institutional prospects do they want more than headline news or potential conflicts of interest? Have a conversation with your colleague about what they want to get out of the updates and how they plan to use it. Asking a few questions can help you manage their expectations and guide them away from "more is better" and back to their cultivation plan.
"The Tracker"
When creating an alert make sure you have the right person and a strong search string to narrow down for the best results. You're going to spend the first few weeks and sometimes longer tweaking your keywords.
You'll quickly discover Chris Evans the superhero isn't Chris Evans the BBC presenter. Same with Mark Wahlberg and (spelled slightly different) Mark Walberg or MacKenzie Scott and Mackenzie Scott. Having a quick reference of notes will make sure your colleague sends a note of congratulations for winning a Tony Award to Michael Moritz and not Michael Moritz.
As you go along, you'll become more familiar with who your colleague is interested in or prioritizing. You'll begin seeing connections when you're familiar with the names. For example, you're researching someone and realize they're on the same board as another prospect and one might be able to make an introduction to the other.
You might not always be responsible for the alerts, so be sure to track them well. Recently I swapped responsibilities with a coworker including sending a client a weekly news digest. She was able to copy and paste my search strings and immediately receive the alerts without missing any news or a gap in service.
Although setting up an alert can be time consuming at the beginning, your "tracker" doesn't have to be complicated. Include your search string and brief notes about who they are (and more importantly) who they are not.
You'll also find building search strings in different products aren't apples to apples anymore and each use their own version of search operators.

Sources to Consider
A few years ago, I wrote an article called Is There One News Alert to Rule Them All? Included are resources and comments for free, fee-based, or some possibly accessible through your public or university libraries, including but not limited to: EDGAR/SEC, Google, Lexis Nexis($), MarketWatch, Mention($) ProQuest (library), and Talkwalker.
I always recommend using more than one product to cover your bases, but these are the few I've recently found the most helpful:
Talkwalker is my recommendation if you only use one. It's been consistent for a few years finding all types of news when comparing it against others. Although it's a fee-based resource they also offer 50 free searches which is what I use. It wasn't my first choice a few years ago because you can get some questionable results and a visit from IT if you click on the wrong link. To avoid this, I usually stay with the News option and avoid Discussions, Blogs, or Twitter for result type.
If you already have a subscription to Lexis Nexis, it's a good resource for alerts once you set up a strong search string.
I haven't found Google to be reliable, but it's saved me a few times and it's free. Why do I still use it as a supplement? A high-profile and key prospect for my client received an Order of the British Empire (OBE) and out of three resources it's the only one that caught it.
Corporations and Foundations
Corporations and foundations are still tricky to find resources for alerts. You can use the same products as you do for individuals as long as you narrow your focus with targeted search strings. This is where having a conversation with your colleague becomes important, so you'll avoid wading through large amounts of irrelevant news.
Owler and Crunchbase offer limited free searches if you don't have a subscription. I've also found the Inside Philanthropy newsletter($) and Philanthropy News Digest provide helpful news and some of the most interesting hits for my client's existing or potential institutional relationships.
OUTPUT
It's been difficult for colleagues who don't do this every day to understand that this is not a push-of-a-button activity or in any way automated for me. You can't "pause" the news or only send a news digest once a month to save time and still keep up to date. No matter what product you use, you still have to manually review results.
Verify the Source and Date
The best website I've found to vet a source is Media Bias/Fact Check and I keep this on my toolbar. It provides a bias category, news sources' history, and it's funding. It's a way to double check you're looking at a source you trust when they all sound similar – Washington Post (left-center bias) vs. Washington Times (taken with a block of salt) vs. Washington Examiner (right bias).
Don't take the date for granted! I've come across articles dated today but it's a recycled story from five years ago. Usually, I can avoid this by searching the article's headline when I'm looking for the story in a higher profiled newspaper. Imagine your colleague sending a note to a $10 million prospect congratulating them on a "recent" award or condolences on the passing of a family member but it's from several years ago. It can hurt your credibility.
Are Alerts Right for You?
Alerts can impact a relationship with your organization BUT it might not be the best use of your time when there are other priorities. Make sure you understand why or how they're going to be used so you can offer advice and/or narrow your focus.
For every hour you might spend a day scanning emails for relevancy, verifying the story and source, and making it digestible for your colleague, they might spend less than a minute doing their own scan, speaking to the prospect, or (sob) never opening your email.
And finally, check in with your colleague from time to time to get their feedback and to give them yours.
See my previous blog Is There One News Alert to Rule Them All? (sorry, Sauron, the answer is still no) for more tips, tricks, suggestions, and (sometimes) the frustrations of monitoring news alerts!