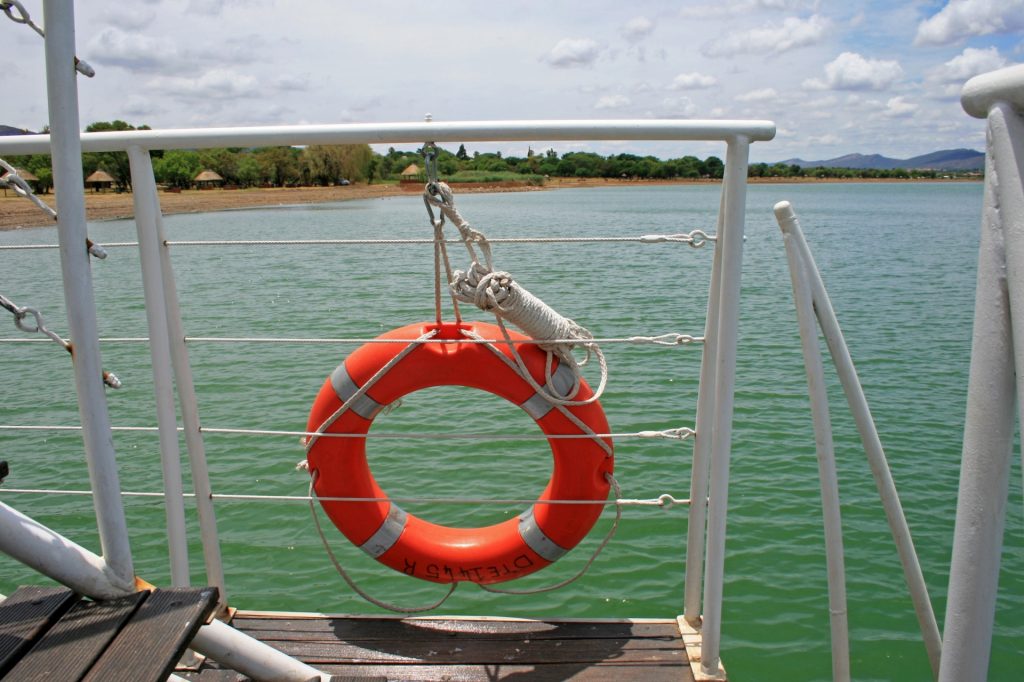 Here's the complaint I hear frequently about wealth screenings, prospect research, and real estate: Knowing what our prospect holds in real estate is useless! She's never going to give any of those houses to our organization!(*)
That's absolutely right. She's probably not. But that completely misses the point of why real estate is key.
Here's why:
Imagine with me that you're on a lovely sailboat. You're out for the day with friends in the Caribbean enjoying the sun and the breeze. You're moving along at a pretty fast clip with the wind, but all of a sudden an unexpected gust causes the boom to flip from one side of the boat to the other, and somehow you're overboard.
The water's warm but it's going to take a few minutes for your friends to turn the boat around and get you. That thin orange ring they tossed you is by no means reliably holding up your weight, but it'll help keep you up while you tread water until the boat comes back. That orange ring may be crummy, but it's the most solid thing you've got right now.
Real estate is that life-preserver ring for prospect research.
Because when we run a wealth screening, we're looking for assets, right? We want to know: Is this person a major gift prospect? Do they have assets of $1 million or $10 million or $100 million – or more?
The trouble with that question is that 70-99 percent of assets are completely private information. For example: salary?** Private. Bank accounts? Private. Jewelry, art, stocks*** and bonds? Private, private, private, and private. Wealth screenings can only match to things that are in publicly-available resources. And the asset that is the most publicly-available is real estate.
So wealth screenings depend on real estate to form the basis of ratings. Like I said, it may be thin, but it's the only solid thing we've got. But we can at least use it to float well-educated guesses.
How?
For example, we may consult annual wealth studies like the venerable Capgemini World Wealth Report which tell us that, for high net wealth (HNW) people (those with investable assets of over $1 million not including primary residence), real estate makes up about 15% of their total portfolio.
So let's say you have a prospective donor who is a hedge fund partner at a firm with assets under management over $1 billion (which is our first clue that he is probably a HNW individual). Unless Forbes has helped us out, we probably won't be able to find his compensation because it's private. But if we know that he owns 4 properties worth a total of $30 million, based on the Capgemini information we can estimate that his net wealth is somewhere in the ballpark of $200 million.
You may be right, you may be wrong, but at least it's something to go on in this business where we're all operating on uncertainty, every single day. We attach ratings to and hang our hopes and our cultivation strategies on people who may or may not support our organizations. It's a guessing game to which we apply the most solid things we can to a sea of uncertainty.
The rating is a just starting point anyway.
So that's why wealth screenings – and prospect researchers – rely on real estate to create ratings and wealth estimates. So, dear fundraisers: next time you hear a colleague complain about prospect research's over-reliance on real estate, do us a favor and clue them in. Because there's nothing we researchers like better, or need more, than frontline fundraising allies.
And researchers, feel free to print this out and leave it lying around your office.
*Caveat: I've never heard a planned giving officer say this.
**Salaries are private unless a person is one of the top officers of a publicly-held company. Or a government employee (but chances are good you're not expecting major gifts from government employees.) There are a few other examples, but generally they're unavailable. Which is fine because, in my opinion, they're none of our business.
***Stock holdings are private unless a person is one of the top officers or board members of a publicly-held company.