To start off the new year on The Intelligent Edge, we hear from my colleague Heather Hoke who shares her knowledge on luxury private communities – their costs and amenities. If you have prospects and donors living in a private community, check out the resources Heather references below. ~Helen
---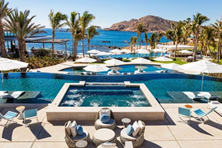 It's been a rocky start to 2021 and it wasn't too long ago that I was saying how excited I was to leave 2020 behind and start a new year! Given everything, it's not surprising that so many of us are ready for a change in geography, including the wealthy.
Many people are migrating from densely populated urban areas, to a place they can have peace-of-mind and feel a sense of security. Private residential club communities may be attractive to buyers now in the time of COVID-19. Stay-at-home mandates and social isolation may factor into an increased interest in resort lifestyle communities that are full of amenities.
You can be in any stage of life to live in a private community, but some are targeted specifically for families, retirement, or active adults over 55. Communities offer a variety of exclusive concierge services and amenities including an array of fitness and recreational activities, dining, social activities and even security and medical staff. It comes at a significant cost as the properties require an initiation fee and annual dues. Buyers are not only buying a home, but they are also buying a lifestyle.
Let's explore some of the most exclusive private residential communities….
Bighorn Golf Club in Palm Desert, CA
Bighorn is described as casual and comfortable. There are 470 residences and 520 club members. The $100K initiation fee for club membership includes two championship golf courses, social activities, dining venues, tennis and pickle ball, pools, a fitness center, a salon and spa, personal training, and nutritional counseling. There is also private jet and transportation services, and an ultraluxe auto gallery to house members beloved cars. A golf membership is an additional $250K. Current homes for sale are going for up to $9.6 million.
The Hideaway in La Quinta, CA
The real estate on the 600 acres includes 447 homes, ranging from designer-built bungalows and villas to custom-built homes of up to 10,000 square feet. Current real estate listings go up to $4.5 million. There is a $75K fee to join The Hideaway Golf and Country Club which is limited to 580 members. Along with two renowned 18-hole golf courses and a 51,000-square-foot clubhouse, recreational facilities feature a world-class spa, fitness center, pool, and sports courts.
Kohanaiki in Kailua-Kona, HI
Kohanaiki features a Rees Jones-designed oceanfront golf course, a sports complex, and an Adventure Team that serve as personal guides to the island's natural attractions of surfing, stand-up paddling, snorkeling, and diving and deep-sea fishing on Kohanaiki's 39-foot boat. The 67,000-square-foot clubhouse is a place of relaxation and wellness that includes a spa, infinity pools, yoga lawns, relaxation areas and sweeping views of the ocean. It also has a bowling alley, movie theater, private dining rooms, a wine and cheese tasting room, cigar room, and poker room. There is even a master brewer crafting one-of-a-kind beers onsite. Current real estate listings go up to $12.5 million.
Kukui'ula in Koloa, HI
The 1,010-acre property designed for families offers outdoor adventure experiences, a 10-acre organic farm, hiking trails, spa, and an 18-hole golf course-dubbed one of the best courses in Hawaii by Golf Digest. On staff is a "cultural resource liaison" who oversees programming that delves into island culture, including lei making, hula dancing classes and sunset ritual ceremonies. Kukui'ula offers a range of home ownership opportunities from large home sites to villas and bungalows. Homes range from $600K to $12 million. 
The Madison Club in La Quinta, CA
The Madison Club is a community with quiet neighborhoods of luxury estate residences, elegant villas and clubhouse suites. It offers a Tom Fazio-designed golf course, movie theater, game room, full-service spa, a fitness facility, on-site medical practitioner, and a "recreational and lifestyle wellness team." Initiation fee is $200K plus $33K in dues. 
Ocean Reef Club in Key Largo, FL
This community is on a private peninsula and has its own 4,000-foot airstrip, school, museum, security force, and fire department. A marina with 175 slips and docks for yachts up to 175 feet are also offered. To live in Ocean Reef, a resident must be sponsored by two current members and purchase a membership for $200K.
Royal Palm Yacht and Country Club in Boca Raton, FL
This 450-acre community has 700 estates, many on deep-water and golf course lots. Royal Palm is internationally acclaimed as one of the most exclusive yachting communities in the country. Notable features include a Jack Nicklaus Signature golf course and full-service marina. Membership is by invitation and the candidate selection process is overseen by the members. Current real estate listings go up to nearly $17 million.
Silo Ridge Field Club in Amenia, NY
On 800 acres, Silo Ridge opened in 2018 and is a project of Discovery Land Company, a developer and operator of some of the world's most exclusive residential club communities. Silo Ridge has $250 million worth of amenities, including a Tom Fazio-designed golf course with gourmet snack stations, an organic garden, farm-to-table dining, hunting, fishing, hiking, mountain biking, an equestrian center, a spa, an outdoor theater, and a pool with a 150-foot water slide. About a 90-minute drive from Manhattan, Silo Ridge is especially appealing to NYC residents. There are 245 predesigned houses priced at an average of $5 million and going up to more than $10 million. Members pay annual dues of $24K and an initiation fee of $100K. Silo Ridge has vertical membership where members' children and parents also become members.
The Summit Club in Las Vegas, NV
This ultra-luxury resort community on 555-acres had its first residents in 2018 and has contracted 154 of its 260 lots, pre-built residences, and clubhouse suites. There is a clubhouse for dining and events, a pickleball facility, sports and tennis courts, and a championship golf course designed by golf architect Tom Fazio. It also has mountain biking and hiking nearby in Red Rock Canyon National Conservation Area, a kid's club, and residential services in which staff will do everything from grocery shopping to a turn-down service and housekeeping. Some of the homes built were more than $20 million. The average custom lot sells for more than $3.5 million. Club membership is $200K, annual dues are $39K and homeowner's association fees are $16.8K.
Yellowstone Club in Big Sky, MT
Yellowstone Club is the world's only private ski and golf community. Designed by Discovery Land Company, it is situated in the Rocky Mountains spanning 15,200 acres with 2,900 acres of ski trails and an 18-hole golf course. There is a 282-acre ranch under contract there for $18 million and custom homes ranging from $11 million to $29 million. The grounds are reportedly protected by a security team that is led by a former Secret Service officer and it has its own fire department and emergency medical services team. The Club is limited to 864 members. Initial membership fees are $400K, and there is an annual fee of $41.5K.
These properties seem to have everything you will ever need to ease even the most stressed mind and body!
You can do some prospecting around private communities too. A helpful resource is the Private Communities Registry (www.privatecommunities.com) which is searchable by state for various community-types including gated, golf, luxury, and equestrian communities. Perhaps some of your constituents already live there!
In 2021, I am looking for wellness, peace of mind, and to be outside in nature as much as possible. Now I need to figure out a way to move to Kohanaiki! Since there is a master brewer on staff there, I have buy-in from my husband!