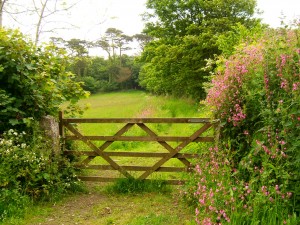 Web searching can be a lot like hiking. Sometimes it's a pristine path along the coast with stunning views over the channel, other times it's a bracken-laden jungle where you can't even see your feet. I've been on both kinds of paths, and I much prefer the former.
A lot of the time for web searching, though, you may be hacking away with a machete and not even know you're doing it. That's why I wanted to do this series on efficient web searching – to make sure that you're flying down the path to get to the good view.
Before we get seriously hiking, though, just like with every good tour, let's stop here at the fence to get the lay of the land.
Tip #1: Be an informed user
You know how when you get a new mobile phone it's pretty easy to use? And then you use it for about 3 months and you get frustrated because you think it ought to be able to do something pretty simple but you can't figure it out? So you go to the user's manual (or online) and start reading. 20 minutes later you've found out the answer to your question plus about 15 other things you didn't know your phone could do, but now you do and HOW AMAZING IS THAT! ? !
Search engines have the same kind of thing. At Google, they've got a cool overview (for the geeks among us) but also more practical Tips & Tricks. Over at Bing, their tips & tricks page takes the form of a very handy chart.
I know that you've probably been using search engines for over 10 years now, and you might think there isn't anything new to learn about them. I thought so, too, but in putting together this article I found quite a few cool new tips, so I have a feeling you may find some as well.
Tip #2: Don't use one search engine.
Seriously – don't. I know it's a pain, but if you want the best answers you really must search in more than one engine. Why? Search engines index different things in their databases, and they pull them in differently. A key word in one engine might be exactly the right one to find what you're looking for, but slightly off for another one – even that big one. A web page or company site may appear in one engine but not another.
You may think that one particular search engine has the entire universe of the web in it, but it really doesn't. It only has 60 trillion pages. That may sound like a lot, but there are trillions of other pages still waiting to be found.
So, what search engines should you use? Click here for a fantastic list to choose from. The engine you choose can depend on what you're searching for or where that person, place or thing resides.
For example, let's say you have a prospect in Qatar. Yahoo! Maktoob may be a better choice for you than a general search in Google. Likewise, using Exalead to search for a foundation in France will likely turn up better answers for you, because that region is its specialty area.
Even if you are searching for someone or something in the United States or Canada, trying a lesser-known engine (like DuckDuckGo or Bing) will provide you with surprises – and greatly enhance the quality of your research. Experts say that the overlap between search engines can be as little as 10% (!!), so be sure to take advantage of all of the choices out there.
Tip #3: Don't go it alone.
There are quite a few very smart people out there that spend every waking moment (at work, anyway) paying attention to search engines and how they work. If you're a professional searcher, it's a good idea to plug a few of these experts into your RSS feed reader.
SearchEngineWatch
SearchEngineLand
Information Week
Online Searcher magazine
(Who have I left off? Let me know!)
Looking for a good RSS feed reader to keep everything organized elegantly? Try my favorite, StartMe. Our HBG Research Resources page is kept there, and adding new pages, links, RSS feeds and widgets is a breeze. Also, it's free!
So there you have it
Take a moment to familiarize yourself with these resources in the week ahead; next Thursday we'll open up the Field Guide to Efficient Searching and get started down the path.