Hi there and happy almost-New Year!
I did a wrap-up last week on the HBG team's favorite resources from our prospect research links page, and this week I thought I'd share some of my own personal favorite reads from this year.
This list is the really-worth-it books, articles and white papers I've read over the course of 2018. In case you have some down time between now and the new year (or even in the weeks ahead), I thought you might like to queue up the ones that are new to you. I've thrown in a couple of personalities I think you might want to follow on social media, too.
As always, if you have suggestions for things that I and others shouldn't miss, please don't hesitate to share them in the comments – I love learning about new sources!
The Intelligent Edge
The most popular articles on our blog this year:
Books
My favorite books we read in the HBG Book Club this year. They gave us deep context into philanthropy, donors, and our work in nonprofits.
Winners Take All, Anand Giridharadas
New Power, Henry Timms and Jeremy Heimans
The Givers, David Callahan
Secrecy World; Inside the Panama Papers Investigation…, Jake Bernstein
Levity, awesomeness, and constructive criticism on the interwebs
Fundraisergrrl on Tumblr. A daily gif highlighting the craziness that NonprofitWorld can be.
The Whiny Donor on Twitter. A philanthropist who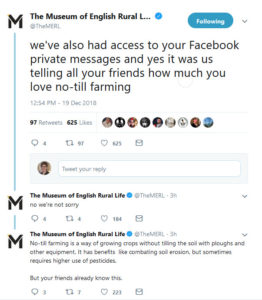 gives great advice for how to be better fundraisers and donor stewards.
The Museum of English Rural Life on Twitter. So so sassy. Killing it on social media.
Duchess Goldblatt on Twitter. (She's got nothing to do with fundraising specifically, I just think she's a hoot).
Articles and white papers, many of which challenged my previously-held perceptions of prospect development, philanthropy, philanthropists, and the Third Sector generally
Ashutosh Nandeshwar on the Ways Artificial Intelligence Will Disrupt Nonprofit Fundraising
How the .001% invest, The Economist. "The family offices through which the world's wealthiest 0.001% invest are a new force in global finance that few have heard of."
Charities Aid Foundation (CAF), 2018 UK Giving Report
The 2018 U.S. Trust Study of High Net Worth Philanthropy; Portraits of Generosity. A shorter overview with infographics can be found here.
The Bridgespan Group's "Four Pathways to Greater Giving." Identifies current barriers that prevent HNW donors from giving more and offers solutions for how to clear them away.
"The Case Against Billionaire Philanthropy." Senior Correspondent Dylan Matthews of Vox.com interviewed Rob Reich, director of Stanford University's McCoy Center for Ethics in Society, and co-director of Stanford's Center on Philanthropy and Civil Society and author of the new book Just Giving: Why Philanthropy Is Failing Democracy and How It Can Do Better.
This useful FundraisingUK article ("New guidance on when to accept or refuse donations" by Howard Lake), with a link to the Institute of Fundraising's white paper on gift acceptance policies, explains the reasons why these policies help protect nonprofits from becoming embroiled in reputation-endangering situations.